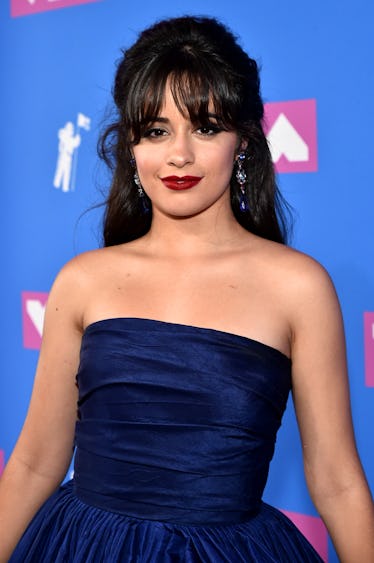 Camila Cabello Just Got Real About The Status Of Her Relationship With Fifth Harmony
Mike Coppola/Getty Images Entertainment/Getty Images
Fresh off the 2018 MTV VMAs, where she won multiple awards, Camila Cabello is proving that she can stand on her own two feet as a solo artist. While the 21-year-old singer got her start with Fifth Harmony, she's recently branched out to make a go of it as a solo star. Making that transition hasn't been easy. Cabello and her fellow Fifth Harmony members have definitely seen happier times than they have over the past year and a half. And that's leaving fans with one pressing question: Is Camila Cabello still friends with Fifth Harmony?
During the 2018 MTV VMA pre-show, Cabello spoke with Access Hollywood and put to rest any rumors of there being a lingering feud between her and her former Fifth Harmony bandmates.
"I don't like any beefs," she said. "I feel like we're in a really good place now, me and the girls. I saw Normani recently at the Billboard Music Awards and we caught up and I told her I'm super excited for her."
The "Havana" singer also explained that she and the rest of the Fifth Harmony girls are all in "a good place", so fans can put their minds at ease over any potential drama among these ladies. Here's what she said:
I don't remember the last time I saw the other girls, but I told Normani to say the same thing to them. I feel like there's just been enough time and distance away from the situation that I feel like we're all genuinely in a good place right now. And honestly, there's just no time in life for that stuff. What's the point?
It seems that Cabello is on to something here because Lauren Jauregui, also of Fifth Harmony, had similar sentiments.
After Tiffany Haddish shaded Fifth Harmony at the VMAs for not being there, Juaregui took to Twitter to say her peace:
Waiting for the day when supporting one successful dope woman does not mean insult to other successful dope women. There is energy and space for us all to beautifully coexist and bless the world with our individual truths, stories and talents.
Juaregui's comments came after Tiffany Haddish joked about Cabello's troubled split from the group.
"Camila Cabello is here nominated for five awards," Haddish said from the stage. "So those of you watching at home… Hi Fifth Harmony!"
Yikes. Clearly, that didn't sit well with Juaregui. But thankfully, she was able to speak for the group and show the fans that they support each other no matter what. And that's pretty much in line with what Cabello was saying during the VMAs pre-show.
So, all is good with the Fifth Harmony girls no matter what the media (or Tiffany Haddish) has to say. And that's really good news, too, because who wants to watch a bunch of girls fight over who's more successful? It's much more fun and empowering to see them put their troubles behind them and raise each other up.
In any case, Cabello walked away with a few awards including Artist of the Year and Video of the Year.