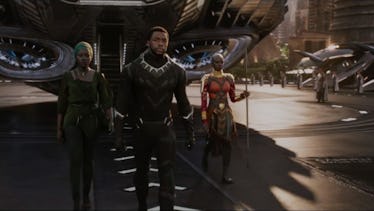 Here's Everything We Know About The Possibility Of A 'Black Panther' Sequel
Marvel
The Marvel Cinematic Universe is known for several things: the gentle humor of their films, the PG-13 rating of their stories, and every single movie seems to get a sequel. Before the movies come out, fans are already looking ahead to the next one, as well as back at the ones that came before, to see how it all ties together. With Black Panther set to arrive in theaters by the end of the week, it's natural to start wondering if the pattern will hold. Is Black Panther 2 happening? Is it a safe bet that Marvel will schedule a return to Wakanda in the next phase of films?
If you'd asked that question on Dec. 13 last year, the answer would have been an unqualified yes, without hesitation. But on Dec. 14, 2017, Disney announced that it had come to an agreement with 20th Century FOX to purchase nearly all their entertainment assets, including the rights to some of Marvel's hottest characters that had heretofore been out of their reach: The X-Men and The Fantastic Four.
That throws a lot of what we thought we might know about Phase IV up in the air. Once this deal closes, the MCU will have to figure out how to plot films starring these characters into the schedule alongside what they were already doing.
All that being said, there will be several more months before the government approves this merger. These new faces probably won't start getting mixed in until after 2020. Until then, we can guess that Phase IV will most likely feature the third and final Guardians of the Galaxy film, a Thor: Ragnarok II if Chris Hemsworth is game, and Black Panther II.
Why are we so sure about Black Panther being part of the automatic-entry-to-Phase IV crowd?
Have you seen their box office projections? Variety says,
Black Panther is gaining momentum with forecasts estimating as much as $170 million in North America during the four-day President's Day weekend, updated tracking shows. That's significantly above the first tracking on Jan. 25 for the tentpole, which initially placed the debut in the $100 million to $120 million range for the Feb. 16-19 period.
That's not just record-breaking numbers. That's recording-shattering for a mid-February release, a month that was once thought of as part of the "dump months" for lousy film studios trying to bury content while everyone was out watching the Oscar contenders.
Moreover, $170 million (if it hits that mark) would put Black Panther in the top ten opening weekends of all time, putting it in between Iron Man 3 ($174 million on opening weekend) and Harry Potter and the Deathly Hallows Part 2 ($169 million). Variety says,
Black Panther should break the Presidents Day weekend record of $152 million, set in 2016 by Deadpool. It will easily top the second-highest debut for the four-day holiday, set in 2015 when Fifty Shades of Grey opened with $93 million. Online ticketing service Fandango reported Feb. 7 that presales for Disney-Marvel's Black Panther are now outpacing advance sales for all other first-quarter releases in the company's 18-year history.
While the overall Marvel Cinematic Universe is a project with hundreds of moving pieces, in the end, the MCU is first and foremost in the business of making profitable movies. Black Panther reportedly cost $200 million to make. Currently, projections say it will make all but $30 million of that back in the first 72 hours of release. With those kinds of numbers, you bet there will be a Black Panther 2.
But first, let's all go out this weekend and see the first one. Black Panther opens on Friday, Feb. 16, 2018.