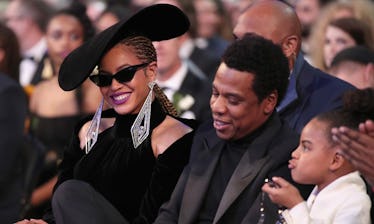 Beyoncé Isn't Attending The Met Gala & The Reason Why Will Have You Sobbing
CHRISTOPHER POLK/GETTY IMAGES ENTERTAINMENT/GETTY IMAGES
The Met Gala is one of the biggest fashion events of the year, which means that everyone's favorite celebs are headed down the red carpet. But will Beyoncé be at the 2018 Met Gala? Unfortunately for the Beyhive, it doesn't look like Bey is going to make it this year. While Bey had been planning to attend the Gala, she's skipping out on the event thanks to hubby JAY-Z.
In a new report from Entertainment Tonight, JAY-Z decided last minute that he and Bey needed some rest and relaxation. So, what did the rapper do? He booked a trip for him and his wife, which is incredibly sweet and super romantic.
A source told ET that JAY-Z was merely looking out for Bey's best interest. "JAY-Z surprised her with a trip because he felt she needed to relax before her tour," the source said.
The tour in reference here is the On The Run II tour, which is set to kick off this summer. Already, the couple's schedule is jam-packed with performance dates. It's the second time the married superstars will be touring together. In 2014, JAY-Z and Bey did the original On The Run tour, which was massively successful for them both.
So yeah, they definitely need to take a breather before they embark on that rigorous tour schedule. But even still, the Met Gala disappointment is way too real right now.
According to ET's source, Bey was slated to wear a custom designed gown by DUNDAS. Peter Dundas, the brand's designer, had reportedly been working on the gown for weeks. Too bad fans won't see Queen Bey walking down the red carpet in it! Perhaps the world will get a glimpse during some other event!
Honestly, given JAY-Z and Bey's awful luck at the Met Gala, it's probably not such a bad idea that they skip it. Remember when Bey's sister Solange beat down JAY-Z in an elevator? Yeah, that was at the 2014 Met Gala. And then, in 2016, Bey showed up sans JAY and sans wedding ring. So, it's probably not the kind of event the two actively want to attend, anyway. I can't imagine the Gala holds fond memories for either of them.
Met Gala or not, though, so many people are looking forward to the On The Run II tour. Jay and Bey have been collaborating a whole lot since their last joint tour in 2014, so there's so much new material to cover. You've got Bey lending her voice to "Family Feud" on JAY-Z's 4:44 album. And then, of course, they recently collaborated with DJ Khaled and Future. There's definitely lots of content for fans to enjoy live. Plus, the fans desperately want to see these two work together more often, especially after all that infidelity drama that plagued JAY-Z a few years ago.
In a 2017 interview with The New York Times, JAY-Z spoke a bit about how difficult it was to admit he was unfaithful and how he worked through past traumas:
You have to survive. So you go into survival mode, and when you go into survival mode what happen? You shut down all emotions. So even with women, you gonna shut down emotionally, so you can't connect.
The rapper reportedly went to therapy to work through some of his personal issues. Good thing he did because he and Bey seem stronger than ever. And now there's this new tour to look forward to!
It's awesome for them to be working so closely together. And it's even more awesome that JAY-Z is making sure Bey doesn't overwork herself before their big tour.