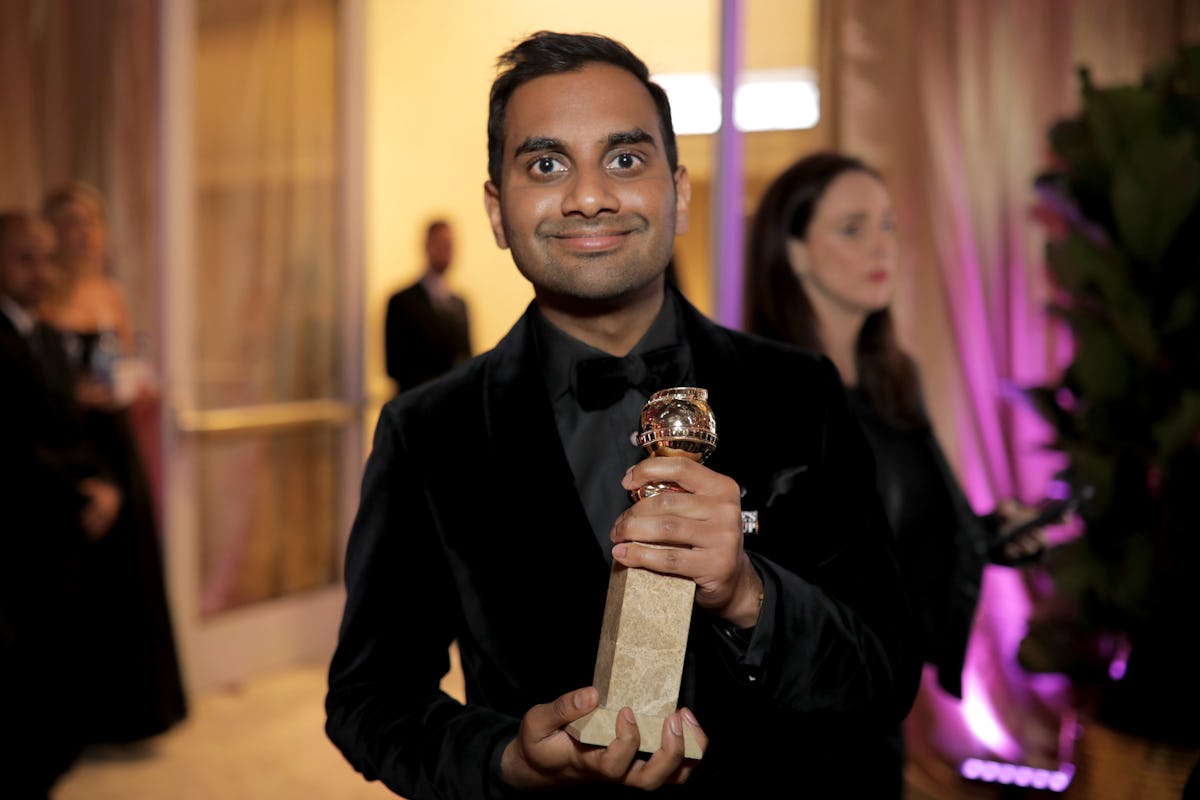 Aziz Ansari Didn't Walk The Red Carpet At The SAG Awards & We're Not Surprised
Greg Doherty/Getty Images Entertainment/Getty Images
There are a lot of elephants in the room in Hollywood. Perhaps slightly less of them than there once were, but though some of the worst offenders may be gone, the #MeToo movement and the push for real gender equality has brought accusations against some new names, many of whom have been or are currently nominated for awards this season. That includes Aziz Ansari, who was nominated at this Sunday's SAG Awards. For those wondering if Aziz Ansari was at the SAG Awards — if he put on a brave face and walked the carpet, knowing what questions he might face — well, the answer is what you probably expected.
Ansari skipped both the red carpet and the awards ceremony, despite being nominated. This came after allegations of sexual misconduct against Ansari broke on Jan. 13, following closely after the Golden Globe Awards. Elite Daily has reached out to Ansari's representative for comment on the accusations and did not receive a response at time of publication.
The website Babe.net published a story from an anonymous 23-year-old woman. Under the pseudonym "Grace," she recounted a date with Ansari. They had consensual sex, but in her recounting, she claims it was "by far the worst experience with a man I've ever had." In other words, Grace claims she only consented because she felt it was easier to give in and get it over with.
After Grace's story was published, Ansari responded to Babe.net with the following statement, via his rep:
In September of last year, I met a woman at a party. We exchanged numbers. We texted back and forth and eventually went on a date. We went out to dinner, and afterwards we ended up engaging in sexual activity, which by all indications was completely consensual. The next day, I got a text from her saying that although "it may have seemed okay," upon further reflection, she felt uncomfortable. It was true that everything did seem okay to me, so when I heard that it was not the case for her, I was surprised and concerned. I took her words to heart and responded privately after taking the time to process what she had said. I continue to support the movement that is happening in our culture. It is necessary and long overdue.
Up until this story broke, Ansari was having a very good year, especially award-wise. His show, Master of None, now in its second season on Netflix, made history both at the Emmys and at the Golden Globes. At the Emmys, Lena Waithe was the first black woman to receive a nomination for Best Writing for a Comedy Series and the first to also win, along with Ansari, for an episode based on her own experience coming out to her family in "Thanksgiving." At the Golden Globes, Ansari was the winner and the first Asian American actor to take home a Golden Globe for Best Lead Performance in a TV Comedy.
His run wasn't over then, either. He was nominated for a Critics' Choice Award for Best Actor in a Comedy Series back on Jan. 11, though he lost to Ted Danson for The Good Place.
On Sunday night at the SAG Awards, he was nominated once again for Outstanding Performance by a Male Actor in a Comedy Series, alongside other talent such as Anthony Anderson in ABC's Black-ish, Larry David in HBO's Curb Your Enthusiasm reboot, Sean Hayes in NBC's Will & Grace reboot, William H. Macy in Showtime's Shameless, and Marc Maron in Netflix's GLOW. While Ansari was coming in on a semi-streak, the odds did not see him taking home the win.
So, Ansari decided to stay off the red carpet and away from the ceremony itself, with the broadcast showing a photo when his name was read as a nominee. Ultimately, Macy ended up winning the category for Shameless and was there to accept his award.