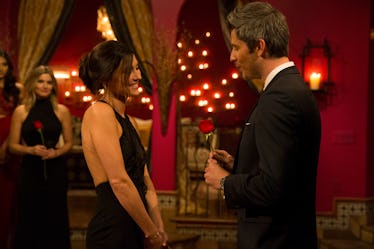 Bachelor Nation Has This Serious Question About Arie & This Season Of 'The Bachelorette'
ABC
What a difference six months makes. Especially when it comes to finding love on reality television. Back in November, Arie Luyendyk Jr. filmed the season finale of his Bachelor season, getting down on one knee to propose to contestant Becca Kufrin. In March of 2018, the world watched as he blindsided his bride-to-be on national TV, breaking up with her to pursue a relationship with runner-up Lauren Burnham. Now it's May and Becca is the one giving out the roses. So, is Arie watching The Bachelorette? Bachelor Nation is curious to know if he'll be tuning in to watch his ex look for love.
"Yeah, I think we will. I'm actually pretty curious to see what her guys are like," Lauren revealed to People, when asked if the couple would be checking out Becca's season.
Arie added that he wishes Becca the "best of luck" and that he and Lauren are pumped to see Season 14 go down. He explained:
We're really excited to see how her journey unfolds. I know that we're announcing our wedding really close to her premiere, but I think we wanted to do it now because we didn't want to have our announcement happen during her season, out of respect for her. I know that she's happily engaged and we're really happy for her.
Becca and Arie aren't exactly BFFS nowadays — Arie is currently living in Scottsdale, Arizona with Lauren in pre-marital bliss. Lauren and Arie recently revealed that they plan on tying the knot in Hawaii on January 12 of 2019, which isn't that far off. So, are there still hard feelings?
"He's a good person, I don't think he's a monster and purposely did this to hurt me and make me feel this way. But it's just the result of his actions," Becca told People of her former flame, despite the backlash he received. "At the end of the day, I don't think he thought through everything of how ending things with Lauren would be, how being engaged to me would be and what breaking up with me and going back to her would be. I don't think he thought it through, but I don't think he did it maliciously to break my heart."
Both of these exes have moved on in a major way since their time together anyway — Becca even confessed she got engaged during her season, so it's nice to know the process worked for her after everything she's gone through. Because of the complicated nature of the split situation, it's hard to imagine Arie and Lauren getting cozy in front of the tube to take in Becca's journey. Who wants to watch their former significant other or their current significant other's fiance go on dates? I would have guessed they'd prefer to binge old episodes of Antiques Roadshow instead, but it sounds like they're ready to "do the damn thing" too.
And maybe they're more involved than we think... During an appearance on The View last week, Lauren and Arie hinted at a possible stint of some sort on Becca's season. "You guys will just have to wait and see," Lauren teased, when asked if they'll be on the show. Maybe they'll pop up?
Hey, Becca learned a thing or two from her experience on Arie's season. And now she might even understand his dilemma now that she's the one making life decisions on camera. I said might.
"I watched all of last season back. I think that being in a relationship, there is a lot that you miss. When [Arie] is going on dates with other women, it helps to see his journey with all the other girls," Kufrin told Us Weekly. "Being on this side now, I can empathize a bit more. I can see what it is to try to sift through each person and each relationship to find the best one. At the end of the day, he had to follow his heart. I wanted to do the same thing for me."
Arie even made it known that one of the reasons he broke up with Becca publicly was so she could be The Bachelorette.
"This was my fault, and I felt like filming that would let people know that, that if there were any questions on the breakup, those would be squashed if they saw the breakup. And I wanted her that opportunity, honestly, I wanted her that opportunity to be the potential Bachelorette," he clarified on Good Morning America.
Welp, the opportunity is finally here. Enjoy the show, Lauren and Arie!