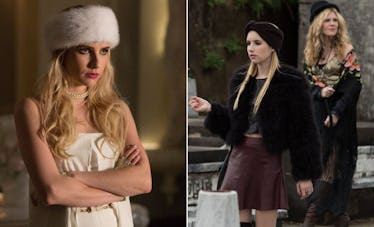 Fans Are Convinced This 'Scream Queens' Character Is Going To Show Up In 'AHS: Apocalypse'
Fox, FX
This season of American Horror Story is already packed with crossover magic, but some fans think that Ryan Murphy has one more secret crossover planned to shock fans in AHS: Apocalypse. The theory is extra shocking because unlike the crossovers we already know about, this one would introduce a character from outside the AHS universe into the show for the first time. So, is a Scream Queens/AHS: Apocalypse crossover happening, or is it just some wishful thinking? Let's go over why some fans are theorizing that a Scream Queens character could unexpectedly show up in Apocalypse.
After American Horror Story became a hit, Ryan Murphy created a campier and more slapstick horror series called Scream Queens, which focused on the funnier side of the horror genre rather than the creepy. Unfortunately, Scream Queens only lasted for two seasons on Fox before wrapping in 2016 and then getting axed. But, one of the breakout stars of that show might find her way over to a post-apocalyptic outpost on American Horror Story: Apocalypse. A recent photo of Emma Roberts filming on the set, which was shared by Cosmopolitan, shows the actress in an outfit that looks like it is straight out of her Scream Queen character Chanel Oberlin's closet: a fitted pink coordinated outfit with pearl earrings, a floral scarf, and a pink-cased iPhone in hand.
Now, of course, Emma Roberts is already confirmed to be on this season of American Horror Story as her Coven character Madison Montgomery, who is actually quite similar to Chanel Oberlin just with a witchy twist, but despite the similarities, fans are convinced that Roberts' look in that photo is quintessential Chanel, and decidedly not a Madison look, since the witch favors all-black outfits.
Adding even more fuel to the Chanel fire, some fans pointed out that a stylist on Scream Queens was hired for AHS: Apocalypse, and that she posted a photo of a furry purse (very Chanel) with the caption "she's back." I mean, that seems like a pretty clear indication, right?
But now the question is, how could Chanel Oberlin feasibly appear in the American Horror Story: Apocalypse world. Well, the season premiere of Apocalypse actually offered a pretty convincing reason for Chanel to have survived the nuclear apocalypse: money. Leslie Grossman's Apocalypse character Coco St. Pierre Vanderbilt gives off a ton of similar vibes as Chanel Oberlin — both are rich, spoiled, and obsessed with looking good at all times — and Coco secured a spot in Outpost Three because of her family's wealth. It would make a ton of sense for Chanel to have gotten an outpost spot for the same reasons.
So now all that is left is to see Chanel Oberlin make her big American Horror Story debut at some point in Apocalypse. Of course, none of this has been confirmed yet, so we will have to wait and see if Chanel really does appear or Madison just decided to totally switch up her wardrobe choices for some reason.
American Horror Story: Apocalypse airs Wednesday nights on FX at 10 p.m.