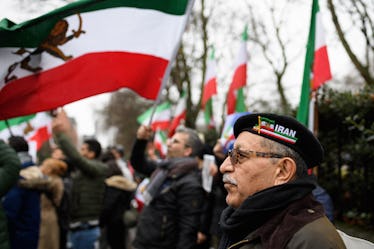 Iranians Are Protesting Trump's Decision On Iran Nuclear Deal & Things Are Literally Burning
Leon Neal/Getty Images News/Getty Images
Protesters in the Middle East took to the streets Friday following prayers, after President Donald Trump's recent announcement about an Obama-era deal to stall a nuclear weapons program. In light of the historic move, Iranians are protesting Trump's decision to pull the U.S. out of the Iran nuclear deal. Trump announced he would back out of the Joint Comprehensive Plan of Action (JCPOA) on May 8.
According to Reuters, protesters in the Iranian capital of Tehran flooded the streets on May 11, with chants of, "Mr. Trump you cannot do a damn thing," and "We fight. We die. We don't surrender." Photos and videos of the protests depicted burning American flags. Trump's decision meant the reinstatement of harsh economic sanctions that would doubtless have an impact on Iran's people.
"For ordinary Iranians, renewed sanctions mean fewer jobs, shortages of basic goods, crippling inflation and budget cuts," said AJ+ in a tweet about the protests.
Trump has long been an outspoken critic of the nuclear deal but formalized his position in his remarks at the White House Tuesday. In a highly anticipated speech, he said, "I am announcing today that the United States will withdraw from the Iran nuclear deal," adding that, "Any nation that helps Iran in its nuclear quest" could similarly be held to the same punishment.
The decision dealt a body-blow to foreign diplomacy efforts, particularly to the signatories of the deal. The JCPOA, regarded as a key success of President Barack Obama's tenure, was signed in 2015 by Russia, China, the U.K., France, Germany, and the U.S. Under the agreement, Iran would stall its practice of enriching uranium to produce nuclear weapons. In exchange, the other nations would indefinitely waive the strict economic sanctions placed on the country so long as it complied, renewing that agreement to waive sanctions periodically.
In response to Trump's decision to exit the agreement, Iranian President Hassan Rouhani said Tuesday that he would remain the deal for the time being.
But things seem to be looking less and less certain as time goes on. Per CNN, Iranian foreign minister Javad Zarif said he would work to find solutions to keep up the deal among the remaining international co-signatories. But shy of a successful agreement to maintain the deal, Zarif said, the country would prepare to resume its enrichment program to develop nuclear weapons.
Also on Friday, according to Reuters, top Iranian cleric Ayatolla Ahmad Khatami told followers Friday at a televised speech at Tehran University that his people shouldn't trust the European nations who also signed the agreement. He also had some strong words for the U.S. and its leadership.
"America cannot do a damn thing," Khatami said, per the news wire. "They have always been after the toppling of Iran's regime and this exit is in line with that aim."
The protests came following missile attacks by Iran and Israel this week after Trump's announcement was made. From its military occupation in Syria, Iran on Wednesday fired shots at Israeli forces in the Golan Heights, a territory west of Syria bordering Lebanon and Israel. (Israel annexed the area in 1981, but that annexation was never recognized internationally; it is considered to be a Syrian territory occupied by Israel.) In response, Israel came back with blows to Iranian forces in Syria on Thursday.
Trump's decision to remove a massive economic force from the agreement has left the international community in a dilemma that is still playing out. The impacts both globally and in the Middle Eastern country are still to be seen as details are still being ironed out. But some in Iran already had ideas about what it all might mean for their citizens.
"This move by Trump has empowered hard-liners, and they will start cracking down internally," an Iranian human rights activist told The New York Times. "We can anticipate bad days for civil and human rights activists."
Before Trump's announcement, protests over labor rights had been taking place in Iran, and the nuclear deal decision appears only to have stoked the unrest.
According to CNN, Zarif will meet with diplomats from Europe next Tuesday to discuss the deal.