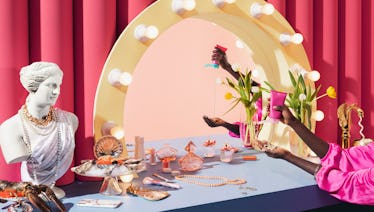 Kick Off The Season Of Gifting With The Smartest New Way To Shop: Klarna's Pay-in-Four Installments
Despite the celebratory nature of the holiday season, the last few months of every year also tend to be the most financially stressful. From stocking up on wine for intimate (read: socially-distanced) family dinners to gifting your luxury-inclined S.O., we're not expecting this year to be any different. But we have found the best way to make the holidays feel a little less stressful — at least in terms of spending.
Meet the shopping service Klarna, your new gifting-season lifeline. You've probably noticed Klarna's pay-in-four integration on the product pages of your favorite sites (Sephora, Macy's, Mejuri, and more), but we're here to breakdown all its benefits — and trust us, there are plenty. In fact, now is honestly the perfect time to test out Klarna yourself and take some financial stress off of the holiday season. You can thank us later.
Pay In Four
First things first: Klarna's Pay in 4 capabilities let you pay for your holiday purchases over time, rather than all at once. So that $200 pair of sunnies your best friend has been eyeing for months will only set you back $50 upfront — and that's a pretty great price for a gift she'll wear day after day. And, unlike your credit card, paying over time with Klarna will never incur you interest or extra fees.
Maximize Your Spending Power (& Say Goodbye To Fees)
Take back the power this holiday season by leveraging Klarna's budget-friendly perks. The ability to spread payments out over time (especially on larger purchases) gives you more spending power to gift your favorite people something extra-special. Why spend your entire monthly budget at once when you can pay over time interest-free and without impacting your credit score?
Here's exactly how to get started using Klarna on all your holiday purchases:
Browse In-App & Online
The best thing about Klarna is that you can use it anywhere you shop online. To get some initial shopping ideas, check out all the stores with Klarna integrated at checkout. If you're looking for something a little more specific, no need to fret — you can browse any online store (yes, any) within the Klarna app, even if the retailer doesn't have Klarna integrated into their checkout system. From there, you can make wishlists, receive price-drop alerts, shop exclusive deals, and earn rewards while shopping. So whether you're looking for a niche face serum for your sister or name-brand sneakers for dad, Klarna has you covered.
Ready to get started? Download the Klarna app or shop holiday-ready gifts for everyone on your list from Klarna-integrated merchants below:
For The Fashion Obsessed
For The Beauty Guru
For The Music Enthusiast
See Klarna terms here. CA residents: Pay in 4 loans made or arranged pursuant to a California Finance Lenders Law license.