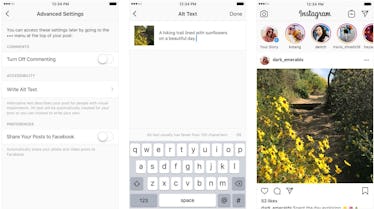 This Instagram Text To Speech Update Will Make Connecting On The App So Much Easier
INSTAGRAM
Instagram is about to get a lot more accessible, thanks to a brand new feature that appeared on the social media platform on Wednesday, Nov. 28. Months after revealing that 1 billion users now use the image and video-sharing service, Instagram is taking a page from Facebook (Instagram's parent company) and Twitter's book by introducing a feature geared towards people with visual impairments. Instagram's new text to speech accessibility feature is so similar to Facebook's Al, and it will help you better connect on the app.
On Nov. 28, the tech giant revealed that it would be building "automatic alternative text" into its platform, making Instagram more accessible to the approximately 285 million people worldwide who have visual impairments, per an official Instagram blog post. While "alt text" — which can be read by specialized screen readers — is now quite common around the web, it's the first time that Instagram is introducing the feature. According to the Instagram blog post, the company will be automatically assigning alternative text descriptions to images, which can be heard through a screen reader while browsing your feed, Explore page, and your profile. Instagram's use of object recognition technology will determine what's in the image, and then the description is read out loud via a screen reader when the user scrolls past the image.
According to the Verge, the alternate text descriptions won't be visible on the posts, and you'll have to go into your advanced settings to enable access to them. In your advanced settings, you also have the option to put your own customized description on your images when you upload them. Followers using screen readers will also be able to hear this description.
Considering that parent company Facebook has had the alternate text feature available for users for years now, it makes sense that Instagram is also rolling out this update. According to Facebook's help center, you can opt to use a screen reader to hear a description of the photos from your camera roll before you upload them. And, like Instagram, you can hear a description of a photo on your feed by focusing on a photo with your screen reader. In addition, you also have the option to edit the alternative text to provide a better description for your photo on Facebook by selecting "edit photo," then opting to "override generated alt text" and saving your changes.
Meanwhile, for Twitter, there's a toggle option on photo captions that allows for the same purpose that's been in place since 2016. Once you enable the compose image descriptions option in Twitter's accessibility settings, you will have the option to add your own alternative text for each image you share.
Now, it looks like Instagram is finally getting on board and potentially welcoming millions of more users to become better connected with the app's global community. To learn more about making your images more accessible to a wider audience, the social media platform recommends heading over to its help center and checking out its blog post on how to edit your alt text and better customize your post images.