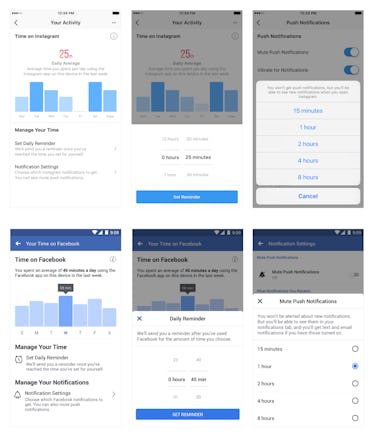 Instagram & Facebook's Newest Features Will Make You So Much More Productive
If you know me at all, you're most likely aware of the fact that I'm an absolutely incredible procrastinator. I put off pretty much everything until the last second. While I'm well-aware of the fact that it's a terrible habit, I seriously cannot help myself. One of my greatest distractions from getting stuff done is social media — as I'm sure it is for many millennials — and Instagram and Facebook's new time-tracking features will potentially end my time-sucking ways.
Time management can be remarkably difficult, especially with that shiny little smartphone constantly by your side. Instagram and Facebook, however, are attempting to kick that nasty habit of scrolling instead of working. On Wednesday, August 1, Instagram announced that it's introducing a new dashboard that will tell you how long you've spent using the app, per the app's latest blog post.
On Facebook, the feature is appropriately called "Your Time on Facebook" and on Instagram, it's known as "Your Activity." Both blessing-in-disguise features will offer a variety of tools to control your daily usage, like the ability to mute push notifications for a select amount of time. It's kinda like grounding yourself in order to avoid procrastinating on the 'Gram.
According to The Verge, these new features are going to roll out to Instagram and Facebook users worldwide, within the next few weeks. However, a small percentage of users won't get the feature right away, so that the company can compare the differences between the user groups. Is getting held back from this helpful-yet-irritable feature lucky or unlucky? I seriously can't tell.
Once you have the new feature on your Facebook, you'll be able to find it by tapping the button with three vertical lines, which is in the bottom right-hand corner of the app. You'll then scroll down to a section called "Your time on Facebook," and you can simply tap to see your stats.
When using Instagram, however, you'll find the "Your Activity" feature by navigating to Settings by tapping the gear icon, according to the IG blog post. When looking at it on both apps, you'll see a bar chart that shows how much time you've spent on each app in the last week, and then, you'll be able to choose how much time you aim to spend on each app per week. Then, you'll receive reminders when you've hit your ideal limit. You can still continue browsing after receiving said notification, but if you'd prefer the app to take the reigns for you, you can make it so the app is muted for up to eight hours at a time. I don't know how I feel about this, but I'm sure my productivity will benefit beyond belief.
According to The Verge, Facebook and Instagram came out with these features, because both apps have been criticized for being detrimental to users' productivity, and quality of life (since a lot of it is spent on social media). Even though it'll limit app usage, the company felt it was only right.
Ameet Ranadive, who leads a team at Instagram, told The Verge:
We want to empower people to make intentional decisions about how much time they spend, and how they want to engage with the app. There may be some trade-off with other metrics for the company. That's a trade-off that we're willing to live with. In the long run this is something that's important for the community, and something we want to invest in.
Both of these features sound simultaneously like a nagging parent and a pure blessing. In the end, though, you'll probably take advantage of this glorious (and also very revealing) set of features. So, here's to more productivity!