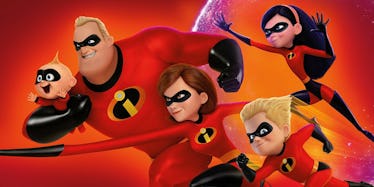 'Incredibles 2' Already Smashed A Huge Movie Record & My Inner-Child Is Freaking Out
Disney
It's been 14 years since the original The Incredibles first arrived back in 2004. Pixar is known for long stretches between their sequels, but this is the longest they've waited. (The second longest was between Finding Nemo in 2003 and Finding Dory, which arrived in 2016.) But Pixar has proven themselves time and again, which means audiences trust them. (Toy Story 3 was a devastating tearjerker well worth the decade-long wait, for instance.) Audiences are clearly counting on them to do it again, as Incredibles 2 smashed presale records ahead of its debut this weekend.
According to Fandango, Incredibles 2 has broken the top animated presale record. Ironically, the record it beat was held by Finding Dory, proving Pixar's long waits between sequels release a serious amount of pent-up demand.
In a statement put out by Fandango's managing editor Erik Davis to Variety, he pointed out the film is also expected to have a long tail as well as a large opening:
Incredibles 2 is making history as our top animated pre-seller of all time. Fans have been waiting a long time for the return of one of our favorite screen families, and the latest Pixar offering is primed for heavy repeat business throughout the summer.
Long range tracking has long suggested Incredibles 2 would be the summer's biggest animated tentpole. As far back as April, prognosticators were putting it over the $100 million mark for opening weekend, with estimates as high as $110 million over the three-day period. That's a huge jump from the first film, which did a $70.5 million opening weekend back in 2004. But as movie watchers note, Pixar was ahead of the curve at the time, putting out a superhero film before the genre really took off.
In the interim, the original film has been extraordinarily lucky. Not only has the rest of the culture caught up to the tune Brad Bird was singing, but the film has held up well as both an homage to and a parody of a genre which is now in full swing.
Current estimates have only grown those preliminary numbers. The current box office prognostication suggests the movie could do anywhere from $125 million to $140 million.
The opening weekend record is held by, you guessed it, Finding Dory, which was released in this exact same time period, June 17, 2016. It came in towards the higher end of the curve with $135 million. If Incredibles 2 manages to surpass it this weekend, it will have to land on the high end of expectations or smash them all together.
Incredibles 2 comes in with great positioning, having scored a 95% "Fresh" score on Rotten Tomatoes. It also has the benefit of extremely popular side characters along with the core family. According to Variety:
In a Fandango survey of over 1,000 Incredibles 2 moviegoers, 87% say they are fans of director Brad Bird; 85% have seen The Incredibles more than once, while 60% of them have seen it more than four times; 75% saw the first Incredibles on the big screen when it was first released in 2004; and 74% are particularly excited to see Samuel L. Jackson return as Frozone.
Speaking of which, Jackson, who is also a staple of the Marvel Cinematic Universe films, feels his other Disney franchise could take a tip from Pixar. Speaking to Entertainment Weekly, he credited the ordinariness of the characters when they're out of costume as part of the appeal.
That ordinariness of who you really are is as interesting as this super thing you can do. How do you live every day? What do you do? Who are you without your uniform, or your costume?
Incredibles 2 arrives in theaters on Friday, June 15, 2018.