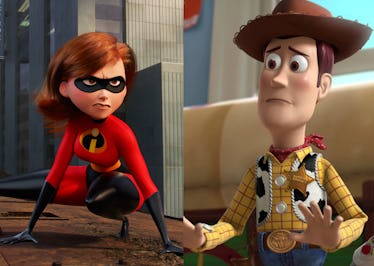 'Incredibles 2' Has A 'Toy Story' Easter Egg & My Heart Is Fully Exploding
Pixar
The long-awaited Incredibles 2 sequel finally hits theaters on June 15, 2018, and while it's safe to say that not much will distract fans from being reunited with this family of superheroes, Pixar has a surprise in store for us. We already knew that we'll revisit the Toy Story franchise in Toy Story 4 next year, but the production company may have hidden a sneaky clue about the new movie in the superhero sequel. Incredibles 2 has a Toy Story Easter egg, and my inner child is so excited.
In April, the Toy Story Facebook page confirmed that its fourth film will come out on June 21, 2019. With just over a year to go until the movie release, it won't be long before we have word on the sequel's plot and new characters. However, if we look closely during Incredibles 2, we may see a subtle reference to Pixar's next creative venture. But according to the movie's sets supervisor Nathan Fariss, the connection won't be obvious until Toy Story 4 is released. Fariss told BuzzFeed:
It probably won't make any sense until Toy Story 4 comes out. I didn't even know anything about it before. You might see it and go, 'What the heck is that?' And then move on.
We might not be able to point out the Incredibles 2 reference ASAP, but any devout Pixar fans are already accustomed to searching for Easter eggs in the animated blockbusters. The Pixar universe is known to overlap when it comes to things such as the Pizza Planet chain, which features prominently in the Toy Story films but has also appeared in WALL-E, Cars, and Brave. Fariss even shared that the Pizza Planet truck is due for an appearance in Incredibles 2, but it will appear with some adjustments to fit into the Incredibles' universe.
In charge of the truck's placement, he teased to BuzzFeed that the truck might not be as easily noticeable as it is in the Toy Story movies, saying:
The Pizza Planet truck is in there. But it's in period, we did make it an appropriately themed truck. I like if possible to hide that Pizza Planet truck pretty good.
Other well-known Pixar Easter eggs will also join the truck and the mysterious Toy Story 4 clue in Incredibles 2. The filmmakers like to hide the sequence 'A113' in scenes as a nod to a room number at many Pixar animators' alma mater, the California Institute of Arts. I might be worried about such a hyped sequel living up to expectations, but at least we can count on these classic Pixar trademarks in the new movie.
As for Toy Story 4, much about it remains a mystery. After the official confirmation of the film in 2014, Toy Story 4 was said to be about Bo Peep and Woody's romance at 2015's D23 Expo, a convention for Disney fans. Toy Story 3 hinted that Woody's implied love interest had been given away at some point, not making it through to the select group of toys still around when Andy was preparing for college.
The newest film would chronicle Woody and Buzz trying to find Bo, but earlier this month, Annie Potts, the voice of Bo, revealed that the script was being reworked. The fourth Toy Story was meant to launch this year while Incredibles 2 would have debuted next year, but it seems that Toy Story's writers have struggled with completing a script. In addition to confirming that she was returning for the fourth film, Potts told MovieWeb:
[Toy Story 4] was supposed to come out this year and then they threw out three-quarters of it and rewrote. Usually, it takes, from start to finish, two years. But because they threw most of it in the bin and started over [my time on the project has] been extended a little bit. I've done a lot of work on it.
Perhaps we still have a Woody and Bo love story ahead of us, but it sounds like the search for Bo may be revisited differently in Toy Story 4. Maybe we have her pink and white dress to keep an eye out for in Incredibles 2?
Incredibles 2 is in theaters on Friday, June 15.