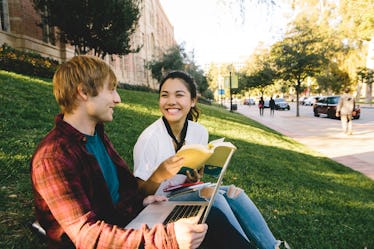 3 Tips For Moving On From A Relationship With A Graduation-Day Expiration Date
I realize now that the only two serious relationships I've ever been in ended just as I was about to graduate — first from college and then from graduate school. In both situations, I felt that I had outgrown the relationship and I knew it was important for me to be alone for a bit while I figured out my next steps. Turns out, breaking up after graduation or right around that transition isn't all that uncommon. Graduation marks the end of an era, so to speak. You're not the same person you were before you moved that tassel to the left. You've got your diploma now and you have big plans. Those plans don't necessarily have to include your current partner and that's OK.
Relationship coach Adam Maynard explains, "College relationships are really formative — you share a deep connection with someone at the same time you're discovering more about who you really are." It's normal for you and your partner to discover that you are, in fact, very different people who probably won't be together forever. You'd only be hurting yourself if you let the relationship go on without acknowledging the harsh reality in front of you. Choosing to end things when you graduate is actually the mature thing to do but it's not easy. Here's how you can get through it with as little stress and sadness as possible.