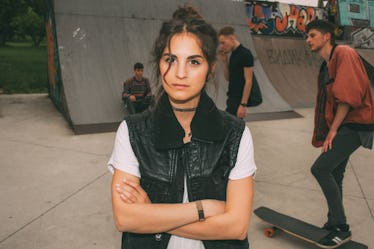 6 Things To Remember If You're About To Start Dating Someone Your Friends Can't Stand
Introducing someone you're dating to your friends can be a really nerve-wracking experience — especially if you're really into this new person. I've been in situations where my friends instantly took a dislike to the person I was dating (they usually ended up being right about them, by the way) and it was an all-around stressful situation. When you're dating someone your friends don't like, it can feel like you have to compartmentalize your life, and like you're always playing interference between the two parties — trying to keep the peace and make everyone happy. So, yeah, not great.
While this scenario is far from ideal, Connell Barrett, founder of Dating Transformation and executive dating coach, tells Elite Daily it's not uncommon. "It would be great if all your friends liked your romantic partner, but that's not how people are wired. Some of us just don't jive with others. And chances are you haven't liked everyone that they've dated either. You can't please everyone all of the time, and that includes your BFFs," he says. Here's what the experts suggest you keep in mind if you're newly dating someone your friends just do not like, no matter how hard you try to get them to vibe.