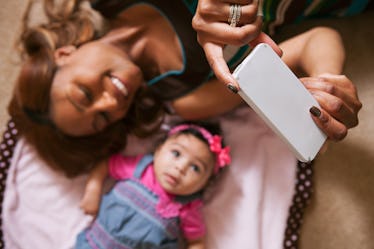 If You're A Young Single Mom, Should You Mention Your Kid In Your Dating App Bio?
I've come across a few single dads when swiping through dating apps and I always appreciate how upfront they are about their status as a parent. Right away, I can tell they prioritize family and responsibility, which speaks to their character. It also helps to know, though, because my life isn't very child-friendly at the moment. I travel impulsively, the backseat of my car is basically my second closet, and my apartment building is mostly home to loud, drunk college students so transparency is helpful on both our parts. Let's just say, if I were a single mom using dating apps, I wouldn't want to date childless-me — she's a mess.
Laura Bilotta, professional matchmaker and author of Single in the City: From Hookups & Heartbreaks, To Love & Lifemates, Tales & Tips To Attract Your Perfect Match, has a similar take on the issue. She thinks that, as a single mom, the sooner you bring this up with someone new, the better. "For some people, kids are 100 percent a deal breaker so by not mentioning them, you're wasting both of your time," she tells Elite Daily. I mean, you wouldn't want to go out with someone who hates kids because, realistically, there's no foreseeable future with them.
Luckily, Bilotta says that there are two ways you can make this known early on.