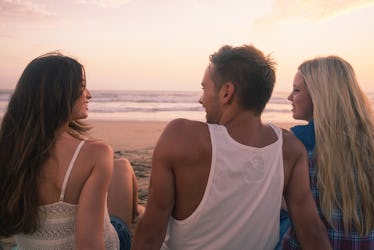 5 Important Questions To Ask Your Partner If Their Ex Is Still In Their Life
When you're in a relationship with someone, it's rarely just with them. To some degree, you're also connecting your life with their family and circle of friends. That can be a really incredible experience where you gain new friends and maybe even family, but it can also be tricky if there are people in that group who your partner has a complicated relationship with, like an ex. If your partner's ex is still in their life, there are some questions you may want to ask, just to make sure everything is on the up and up with you two, and so you can feel secure in the relationship if their ex's presence makes you feel icky.
First of all, is it even possible for exes to be just friends? Well, I can tell you from personal experience that it absolutely is. One of my very best friends is an ex, who is now also really close with my current partner. There is no jealousy because my partner knows that we are totally platonic, and that comfort came about after a series of frank and honest conversations. Plus, we all hang out a lot and he was able to see that my actions matched my words.
So, if you're in a similar situation, don't panic — talk about it with your partner. Here's what the experts say you need to ask and what to look out for that might spell trouble in the relationship.