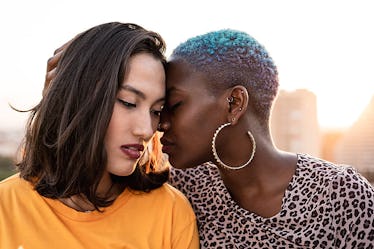 If Your SO Keeps You Letting You Down, Here's How To Talk About It
No matter how strong a relationship might be, no relationship is ever "perfect." There may be times when you and your partner might let one another down. After all, we're only human and, despite our best intentions, people make mistakes. The problem arises when it becomes a pattern and your partner keeps letting you down over and over again. Even if the disappointments are small, if they happen consistently, the frustration and hurt might turn into resentment.
What can you do if you're feeling this way? Dr. Gary Brown, a prominent couples' therapist in Los Angeles, tells Elite Daily it's time to speak up and let your partner know how you're feeling. "You are responsible for communicating your needs. Your partner is not responsible for reading your mind," he stresses. That being said, Dr. Brown adds that it's not your job to "fix" your partner, just to let them know what you need. "Your partner is responsible for what changes, if any, they are going to make. Not you," he explains.
Emmy Crouter, a psychotherapist at Emboldened Counseling in Denver, agrees that it's important to give your partner a heads up about how you're feeling before you become resentful, because it's possible they may not even know they're letting you down. "It's important to bring this to light, as they may actually not be aware of your feelings. Especially if you frequently feel let down by your partner, it's important to bring it this to light," Crouter tells Elite Daily. "Often when we avoid our feelings or expression of feelings, they can fester and grow into resentment, which can do damage in the long term."
If this is all sounding familiar, here's how the experts suggest you discuss the issue with your SO.