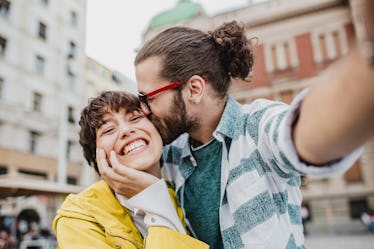 5 Solid Ways To Support Your Non-Binary Partner If They've Just Come Out To You
blackCAT/E+/Getty Images
If you're a cisgender person and your partner came out to you as non-binary, congrats. Coming out takes a lot of guts from your partner, but the way you've shown up in your relationship has let them know you're a safe space. Maybe you're cisgender and heterosexual, but you've always been an advocate for the LGBTQ+ community. Or maybe you're cisgender and queer, but have always advocated for trans rights. Your support is meaningful and so necessary.
But if you're wondering what else you can do for your partner now that they've come out, the answer, simply put, is to keep that same energy going. Tap into the same humility, compassion, and inquisitiveness that made you a trans ally in the first place.
Mix Thomas, a psychotherapist who specializes in working with trans and non-binary people, tells Elite Daily, "Some folks agonize over coming out because they're afraid of losing their partner(s), friends, and family." Make that a non-issue for your partner by letting them know you love and accept them for who they are, and you're willing to do the work to prove that. Here are five tangible ways to support your non-binary partner after they've come out.