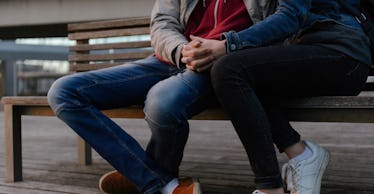 If You Want To Tell Your Dates About Your Mental Illness, Here's When To Do It
Dating usually involves a deliberation game of when to tell the person you're seeing things about yourself. Some people hold off on revealing intimate parts about themselves until months and months have passed, while others lay everything on the table early on in the ~courtship~. Something possibly at the forefront of your mind during dating is when you should tell your dates about your mental illness, if you have one, and how they'll possibly react after you tell them.
Keep in mind that you don't owe your date any explanation. Just because they showed up and split a round of drinks with you doesn't mean they automatically earned the right to learn anything particularly personal about you. That's a privilege that comes with time. You should share information about your health only if and when you feel comfortable.
I spoke to co-founder, Cognitive Behavioral Consultants and Professor of Psychology, Yeshiva University Lata K. McGinn, PhD, and founder of Miami Shrinks and Licensed Psychologist Erika Martinez, Psy.D., CDWF about the topic. Here's what they had to say.