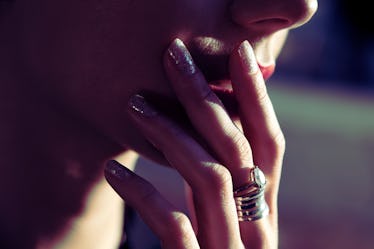 4 Ways To Cope With Panic Attacks Before & During Dates
If you've ever had a panic attack, you know that they are 1.) The worst, and 2.) Capable of striking at any given moment. One second you're sitting in a bar, bopping along to '90s R&B with a beer in hand. The next, "Mr. Brightside" by The Killers starts playing and you find yourself sweaty, dizzy, and curling up into the fetal position on the floor. If only jukeboxes came with trigger warnings, you know? No matter your surroundings or situation, panic attacks are never fun — but, panic attacks on dates? The worst.
As someone who's prone to panic attacks myself (plot twist: That "Mr. Brightside" anecdote's about me!), the thought of my anxiety getting the best of me on a date is both terrifying and ever-present. And if you're single, mingling, and in the same anxious boat, I'd imagine that thought is a source of stress for you as well.
Fortunately, there are a handful of tools, techniques, and coping exercises you can practice to help eliminate the possibility of a mid-date panic attack (or ease one if it seems inevitable). I chatted with Dr. Chloe Carmichael, PhD — a clinical psychologist in New York and author of The 10 Commandments of Dating: How to Stop Getting Hurt, Put Yourself Out There and Find a Relationship That Lasts — to unearth some of the greatest ways to do just that. Here are four of her top tips for managing anxiety both before and during dates, whether it's your first, second, and 17th time meeting someone.