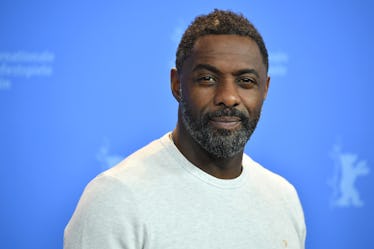 Idris Elba Is The 'Fast & Furious' Spin-Off's New Villain & Now, I'm In Love With A Bad Guy
Alexander Koerner/Getty Images Entertainment/Getty Images
Stop what you're doing right this second, because Idris Elba has secured his next project, and you're going to freak. Idris Elba is the Fast and Furious spin-off's new villain, and now, I think I'm in love with a bad guy. But wait, it gets better: Elba will be starring opposite Dwayne "The Rock" Johnson and Jason Statham, so just when I thought the franchise couldn't get any hotter, it somehow exceeds expectations. Let's celebrate, Fast and Furious fans — if you still have a few Fourth of July fireworks left, now is the perfect time to set them off.
According to Variety, Elba will be playing the main villain in Hobbs and Shaw, the spin-off that follows Johnson and Statham's franchise characters. In the new movie, special agent Luke Hobbs (Johnson) and criminal mastermind Deckard Shaw (Statham) will put aside their differences and team up to face Elba's still-unidentified villain. While fans don't know much about the identity of Elba's character, one thing is clear: The fight between Hobbs, Shaw, and Elba's villain will likely be the fight of the century.
Sorry, Thanos and the Avengers, it looks like you've been replaced by a trio of (hopefully shirtless) fast-driving, crime-stopping (and -starting) hustlers.
While I'm ecstatic that Elba will be joining this already A-list cast, I'm a little torn about him playing a villain. The bad guys in the Fast and Furious franchise are all-around garbage people, and I will not have Elba's good name dragged through the mud like that. But then again, isn't any Idris Elba a good thing? Yeah, who am I kidding. I'm totally psyched to see Elba break bad.
Chris Morgan, who has written every Fast and Furious movie since Tokyo Drift in 2006, wrote Hobbs and Shaw, so the new movie will have all the explosions, souped-up cars, and drama that fans of the franchise have come to expect. However, there are also a few Fast and Furious newcomers joining the spin-off, so Elba won't be alone on his first day on-set. Most notably, The Crown's Vanessa Kirby will be playing Shaw's sister, an MI-5 agent who (likely) helps Hobbs and Shaw battle Elba's villain. I absolutely loved Kirby in The Crown, but I can't wait to see what she does now that she's put the royal life behind her.
Kirby and Elba are bringing a new energy to the screen, but Hobbs and Shaw will have some newbies behind the camera, as well. Deadpool 2 director David Leitch is stepping into the director's chair for the first time in franchise history, and I think it will be an interesting change. The Fast and Furious movies have always featured funny moments, but under Leitch's direction, I'm hoping those moments will be even more exaggerated. Everyone needs a good laugh after a stressful chase scene, right?
If you think Hobbs and Shaw sounds amazing, you're in luck: Leitch and Morgan want the spin-off film to kick off an entire franchise. Leitch told Collider in May 2018 that the first film will serve as an "origin story" that provides a backdrop for the narrative to expand upon:
I think it's going to be a little bit more grounded because it's the beginning. It's an origin story, in a sense. It's not an origin story, but we're starting a franchise. So we want it to be a little bit more grounded, a little bit more character-centric. We're going to set up the stakes for these guys and their relationship, but we're also going to have some great set pieces and some action that you'd expect from that type of franchise.
Leitch went on to explain that while the original Fast and Furious franchise focuses on the world of street racing, the new spin-off franchise will explore the complex world of spies and government agents:
We're diving into their world. I think we want to have our own take on the Fast universe. It will definitely have elements of the original DNA, but it is more drifting into Shaw's spy word and Dwayne's agent world and, obviously, we want to build on their relationship, their conflict, their banter. That chemistry that they have between them, that's sort of what's driving the movie.
Production on Hobbs and Shaw is set to begin in fall 2018, so you won't have to wait too long to check out photos of Elba, Statham, and Johnson on-set. Hopefully, these pics give fans a little more info about Elba's character, because my mind is already starting to speculate, and it's way too early for that.
Hobbs and Shaw hits theaters on July 26, 2019.