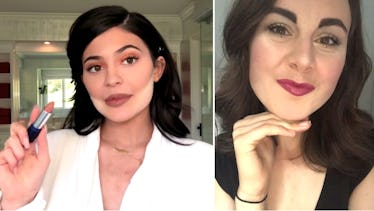 I Tried Kylie Jenner's Makeup Routine & It Was Honestly A Journey
Vogue/Youtube, Courtesy of Sarah Ellis
You've been there before: You're scrolling through your Instagram feed when you see your favorite celeb post about their favorite new product — a face serum, vitamins that will make your skin brighter, or a specialty food service. You can't help but want to be like the stars, but are the products worth it? In Elite Daily's new series, I Tried, we put it all to the test. We're trying those products as well as celebrities' health and wellness tips, recipes, and life hacks. We'll do the leg work and tell you what living like your fave star is really like.
I've always considered myself to be pretty adept at doing makeup. The obsession started when I was fifteen and YouTube beauty gurus were becoming the next big thing on the internet. I used to come home after school and sit for hours in front of the screen, learning everything from contouring technique to false eyelash application tips. I figured out which products and colors looked best on me, and in the years since, I've pretty much stuck to the same formula — until I tried Kylie Jenner's makeup routine, that is.
I first decided I had to try out Jenner's tips when I saw the June 2018 Beauty Secrets video she did for Vogue. In it, she details her everyday makeup routine, starting with brows and progressing through contour, highlight, lip liner, bronzer, sunscreen… you name it. Jenner is obviously a beauty expert — she has her own multi-million-dollar makeup line, after all — but she never does things the conventional way. Her makeup routine includes some tips I had never heard of before (including a technique she literally calls "baking"), so I knew I had to give it a shot. Who says an old dog can't learn some new tricks?
After studying up on Jenner's process, I whipped out my makeup supplies and sat down to try it out for myself. And let's just say… I was in for quite the experience. Here's how it went down.