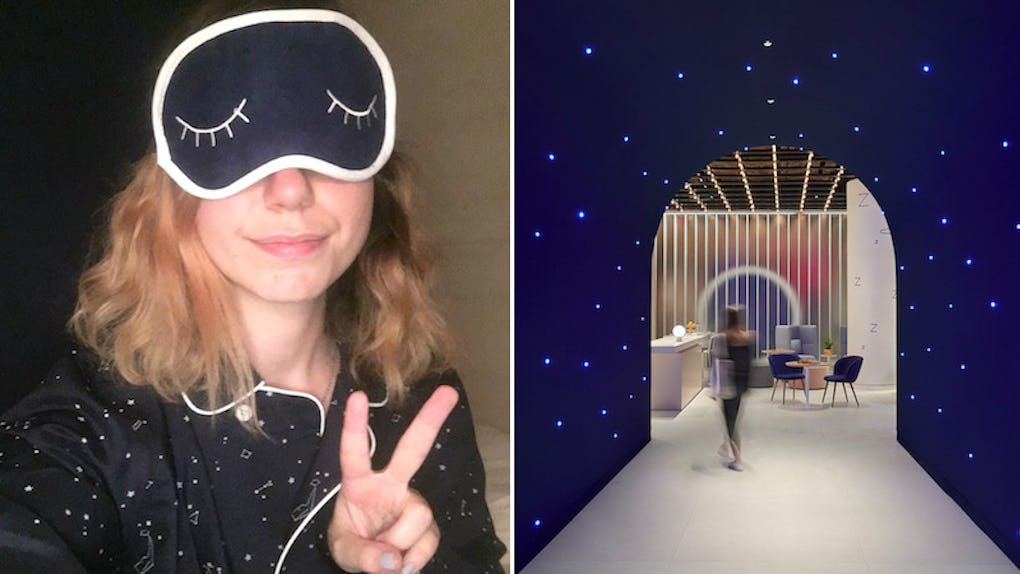 Allie Strickler/The Dreamery by Casper
I Napped At The Casper Dreamery For An Afternoon, But Here's Why I Didn't Fall Asleep
I was sure I was going to be late for my nap appointment at The Dreamery. The New York City subways had done me dirty (once again) on my way there, forcing me to power-walk through the crowded, humid streets of Manhattan on a hot and sticky Monday. Can you really be "late" for a nap, though? Shouldn't naps be relaxing, restorative, maybe even spontaneous? Well, I wouldn't exactly call it a "spontaneous" experience, but I napped at the The Dreamery by Casper for an afternoon, and despite the fact that I never actually fell into a deep sleep, I walked out of there feeling rested, recharged, and dare I say, pretty happy — especially for a Monday.
The Dreamery by Casper, currently open for business in lower Manhattan, is a magical little oasis hidden in plain sight in the middle of a bustling city that invites you to step inside, hit "pause" on real life for about an hour, and simply relax. Whether you're feeling foggy after a red-eye flight and need somewhere to sleep it off, or you're simply stressed from a busy day at work and looking for a peaceful place to unwind, The Dreamery provides you with a freshly made bed and a quiet space you can call your own for an hour, at just $25 a pop.
"The Dreamery is about making sleep and rest a part of our regular wellness routines — similar to how many people prioritize a workout class," Neil Parikh, co-founder and COO at Casper, said in a press release sent to Elite Daily. "The concept enables us to pilot new ways of bringing better sleep to more people and to more places — whether that's here, the workplace, airports, or beyond."
Despite the fact that I was sure I was going to be late for my nap appointment at The Dreamery, I miraculously arrived right on time, and the serene, starlit entryway immediately made me feel more at ease and relaxed.
As I checked in at the front desk, I was given a pair of comfy, constellation-print pajamas to change into, a little goodie bag packed with a variety of sleep-friendly Sunday Riley product samples — including the brand's Ceramic Slip Clay Cleanser, Luna Sleeping Night Oil, Tidal Brightening Enzyme Water Cream, and C.E.O. Rapid Flash Brightening Serum — and I even had the option of choosing a book from The Dreamery's collection to help lull me to sleep. As I scanned the floor-to-ceiling wall of books, I couldn't help but notice a theme: Each book appeared to be, well, kind of boring. There were several books about the economy and laws on finance, various technology manuals, and even a few books about different breeds of dogs. So uh, what was the point, if any, of all of these books?
"Thought goes into every detail here at The Dreamery," a spokesperson for Casper tells Elite Daily. "Some of the books are purposefully boring or dense, and everything has a little Casper wink or quirkiness to it. Everything from the mural design, to furniture, to snacks, to the fact that the PJs are constellation-print, brings the Casper brand to life."
With a book on Maltese dogs and PJs in hand, I made my way to The Dreamery's "Refresh" rooms, where you can get changed into your comfiest clothes, brush your teeth, and do anything else you need to prepare for your nap. Then, it was time for me to hop into my sleep pod.
Once you settle into your pod — which is decked out with a cozy mattress, sheets, and pillows, all courtesy of Casper — you have 45 luxurious minutes to snooze, meditate (Headspace has even partnered with Casper for nap-friendly guided meditations), or really, do whatever you want with that time.
As I climbed under the covers and put my phone on silent, I could already sense that my body was too wired to truly fall asleep. I closed my eyes and allowed my body to melt into the mattress, relishing the rare opportunity for genuine peace and quiet in the middle of a Monday. Physically speaking, I felt relaxed, but mentally, I knew I wasn't tired enough to doze off. At first, this made me feel defeated: Do I even know how to relax? I thought to myself. Have I forgotten how to actually take a nap? Should I have pulled an all-nighter last night?
These thoughts cascaded down a waterfall of worry in my brain, and before they had a chance to completely ruin the whole experience, I allowed my eyes to flutter open and I sat up in bed. I looked around for a moment, glancing at my phone to see how much time was left in my appointment. I had roughly 30 minutes until my alarm — a slow, gradual light that comes on inside the nap pod to simulate the sunrise — would go off, and I decided the best thing I could do was dig into the book I'd chosen, and simply enjoy the fact that this time was mine to do with whatever I pleased.
As I sat and read about Maltese dogs (which are pretty freaking cute, BTW), I thought about all the times I'd felt restless at home in my own bed, and how I usually cope with those feelings. Like many people, I'm definitely quick to grab my phone and scroll through social media when I can't sleep. And when I don't rely on my phone to pass the time, I usually lie in bed willing sleep to come, even though, in moments like that, it almost never does.
But what if I grabbed a book the next time I couldn't sleep? Or rolled out of bed to do a few stretches? Or took a few moments to write down the thoughts going through my head? These are all such simple solutions, and in that moment at The Dreamery, it dawned on me that a "nap" doesn't have to include the literal act of sleeping. Sometimes the opportunity to escape from the loud, hot, bustling world around you is all you need to feel rested and recharged.
"Something we recognize [at The Dreamery] is that everyone recharges in different ways," a Casper spokesperson tells me in the lobby of The Dreamery right after my nap appointment. "What's relaxing to one person might not be relaxing to the next. So you can make the experience your own. It's not a prescriptive thing; you don't have to sleep [at The Dreamery]. Casper just wants to provide the best experience for people to get what they need to reboot."
And by the time I walked, once again, through that starlit entryway and re-entered the constant chaos of New York City, I did feel recharged, despite clocking in exactly zero hours of actual sleep. But that didn't matter to me. I was in a good mood on a Monday. I mean really, when does that ever happen?