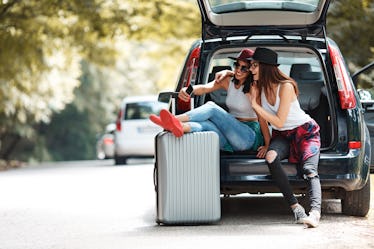 I Took A Trip With 5 Friends, And Here's How I Made Planning Easy
I'm not sure if you and your friends are anything like me and my friends, but we have a tendency to enthusiastically say we want to do things without always following through. Most of these plans involve travel, like planning big trips together, or finally visiting each other in our respective cities. Just when I was finally coming to terms with the fact that the New Orleans trip we'd been talking about would never become a reality, my friends and I decided to actually book a flight to New Orleans.
So there we were, for the first time in seven years of friendship, actually showing the desire and determination to make an elusive friend-cation happen — but how exactly were we supposed to get six women from three different states to one city for five days of fun and relaxation? Spoiler alert: It took a lot of patience.
I know I'm not the only one who's found themselves caught in the crossfires between actually wanting to plan a big adventure with your friends and not actually wanting to plan it, and that's exactly why Elite Daily has teamed up with Venmo to offer up a few of the ways that my friends and I finally turned this dream into a reality.
This article was originally published on