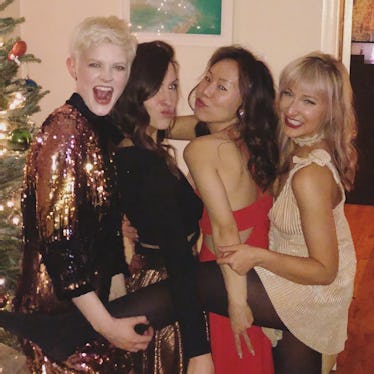 I Invited All Of My Exes To My Holiday Party & This Is What Happened
On any given day, I'd describe my demeanor as "frisky," but the holidays boast a unique ability to really put me in the mood. In New York City, every bar is decked out in wreaths and string lights, ripe for transforming any encounter from mediocre to painfully romantic. This season I find myself unceremoniously single, and I won't sugarcoat it: I'm like a subway rat pillaging at the crumbs of my former flames. In an especially scummy move, I decided to invite all of my exes to my holiday party.
I characterize my festive annual soirée as "the social event of the year" to anyone who'll listen. Padding the guest list with the Ghosts of Relationships Past sounds risky, but I'm no Scrooge, and I figured I could live with the outcome. As trite as it sounds, I'm grateful for the vast majority of my exes, and anything could happen. They could all fight over me, sparks could reignite, or no one could show up at all. At the very least, I'd discover a new way to embarrass myself.
I couldn't invite every single person I've ever dated, because this website would surely crash, but rather a solid crop of the people I've dated since the summer. While listening to sexualized holiday jams like "Christmas Tree" by Lady Gaga, I decided to fire off some invitations, because nothing says "happy holidays" like texts from your ex.
The Ex Who Definitely Lied About His Location
The Ex: Out of all my exes, I figured a reunion with Alex (the funny TV producer) was the most likely to materialize. We met on Bumble, went on six are-you-my-boyfriend-yet dates, then broke up in dramatic fashion. He's still involved with his ex-girlfriend, and thus sabotaged our thing during a weed gummy-induced paranoid haze. While it sucks to be someone's rebound, I appreciate that he didn't ghost (could the bar be set any lower?). A week ago, I sent him a tweet I liked by his famous boss. He responded by asking me to hang out, but I had plans (read: really dirty hair).
The Invite: I concede that a day-of invite is sketch central, but when I texted Alex six hours before my party, I half-expected he would make it. Instead, he told me he was in Connecticut, which is A) one hour away and B) probably not even true. A hot, single TV producer in his 30s isn't trading the city for Olive Garden with the 'rents on a random, non-holiday weekend. His lame cop-out of a response made me I realize that he doesn't care about me, and that quelled my longing for him.
The Ex I Invited In The Same Breath As The Breakup
The Ex: Greg (the artsy salesman) and I met over the summer in a West Village bar. He's the kind of guy who scares you with fantastical statements of his devotion to you in person, but struggles with the simple mechanics of planning dates ahead of time. My breaking point occurred when he texted that he wanted to see me, I asked what he wanted to do, and his response was a meme that just said "Friday." In that moment, I couldn't muster niceties any longer, and I summoned my most honest truth.
The Invite: Greg took the breakup message in stride and even congratulated me on my candor. High from how well he responded, I figured it was the prime opportunity to hit him with the holiday party event. Naturally, he didn't respond. A few days later, I received a text from his friend asking me out, so he must be distributing my number. Thanks, Greg.
The Ex I Saw Long-Term Potential With
The Ex: I knew I liked John (the family-oriented financier) within the first 10 minutes of meeting him at the Hotel Arlo. He indulged me on our second date, when I wanted to buck his fancy dinner reservation and instead get bombed at the dive bar Brother Jimmy's. He's the first guy I've dated who goes equally as hard on the dance floor, and we were so effusive that night, a couple fresh out of college bought us shots. (Our average age is 30, it was a Wednesday, and John did headstand.)
Between dry banter and competitive storytelling, discussions with John often turned serious and confessional. After we spent the night together for the first time, he asked to see me a few days later while I was still at his apartment. I asked if we could play it by ear because I was slammed that week, and then I never heard from him again.
The Invite: Despite my devil-may-care disposition, I couldn't bring myself to invite John to the party. I'm sorry. His ghosting act was unnecessary, unexpected, and unkind. It made feel deeply idiotic, and even my self-flagellating rat personality wasn't up for a round deux.
The Ex Who Stole Christmas
The Ex: I swiped right on Jose (the goofy architect) because I had dated a different Jose months earlier, and I thought it would be fun to rewrite history. I ended up leaving our date after he unwittingly told me I'm not his type. Despite his pleas and attempts to backtrack, I'm a real ball-buster and I walked out. While we never went on a date again, I offered my friendship, and to my surprise, he accepted.
We became friends first, but we became something else the day we went to Moma PS1 together in a group. After he saw another guy kiss me, Jose didn't stop touching me until I left him at my doorstep, and something shifted. From then on, we'd play house whenever we saw each other, but never actually hook up. Watching football on my couch one night, I asked him why — out of all things he could hold — he was holding my hand. He didn't say anything.
The Invite: After emailing Jose the standard Evite, I snapped at him when he texted to confirm the time. He said he had another party in Park Slope, and I figured he wouldn't make it because that's a thousand miles from my place on the Upper East Side, it was the first snow of the season, and none of my exes are ever good for anything.
The Party: Arriving thirty minutes early, Jose was the only ex to show up. He worked the room, chatting up my friends until the very end, after I slipped into the wine-induced grumpiness I occasionally impose on my inner circle. When he walked into my room to say goodbye, I laid comatose on my bed and completely ignored him. He leaned down and tenderly kissed my cheek anyways.
The next morning, I realized I'm lucky to have one ex who treats me with such kindness — even when I'm a drunk jerk. And as for the rest of my exes, inviting them to my holiday party allowed me to fully close their chapters. They're exes for a reason, and my feisty seasonal mood is best suited to finding a new holibae. Just like the lyrics of second-favorite sexual holiday song, "Last Christmas" by Wham! say: "This year, to save me from tears, I'll give it to someone special."
Check out the entire Gen Why series and other videos on Facebook and the Bustle app across Apple TV, Roku, and Amazon Fire TV.
Check out the "Best of Elite Daily" stream in the Bustle App for more stories just like this!