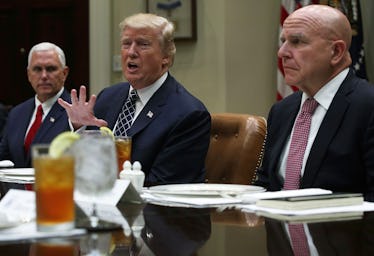 Another Trump Adviser Reportedly Called Him Stupid In Private, & *Sigh*
Alex Wong/Getty Images News/Getty Images
Today in slightly awkward — yet totally unsurprising — news, National Security Adviser H.R. McMaster has reportedly been talking a lot of smack behind Donald Trump's back. If you haven't been keeping track, that means that yet another Trump adviser called him stupid in private, per reports. It's the little pleasures in life that will keep us all afloat.
Six sources reportedly told Buzzfeed News that McMaster has repeatedly questioned Trump's intelligence, with some pretty choice phrases. During a July dinner with Safra Catz, the CEO of tech company Oracle, the national security adviser allegedly called Trump "stupid," a "dope," and declared that he has the intelligence of a "kindergartner."
But that's not all. McMaster also allegedly slammed Secretary of Defense James Mattis, former White House chief strategist Steve Bannon, and senior adviser Jared Kushner. Kushner, he reportedly said, has no business being in the White House, and shouldn't be allowed to go anywhere near national security issues. Michael Anton, a spokesman for the National Security Council, denied that McMaster said anything of the sort, telling Buzzfeed News,
Actual participants in the dinner deny that General McMaster made any of the comments attributed to him by anonymous sources. Those false comments represent the diametric opposite of General McMaster's actual views.
Oracle Senior VP for Government Affairs Ken Glueck also denied the comments to Buzzfeed, saying that "none of the statements attributed to General McMaster were said."
We probably won't ever know for sure if McMaster actually made those comments. One thing is certain, though. A lot of people on Twitter felt that the whole thing was insulting to kindergarteners (which... lol).
This isn't even the first time that a Trump adviser has reportedly questioned the president's intelligence.
According to an NBC News report, Secretary of State Rex Tillerson called Trump a "moron" after a July 20 meeting at the Pentagon. Three officials confirmed hearing that statement being made. NBC News also reported that Tillerson was thisclose to resigning because all of the alleged drama going on at the White House.
Apparently, Trump did not take to kindly to this news. A White House official told NBC News,
[Vice President] Pence has since spoken to Tillerson about being respectful of the president in meetings and in public, urging that any disagreements be sorted out privately,
During an Oct. 4 press conference, Tillerson basically did something of an apology tour. He complimented the president multiple times, and assured everyone that his commitment to Trump was "as strong as it was on the day I accepted his offer to serve as Secretary of State."
Perhaps most importantly though, was the fact that Tillerson refused to answer any questions about the "moron" comment. Instead, he said, "I'm not going to deal with petty stuff like that."
Hmmmmm. OK then, Rex.
One person who is actually willing to go on the record about the madness going on at the White House? Senator Bob Corker (R-Tenn.) who, in a statement to The New York Times on Oct. 8, said Trump treats his presidency like "a reality show." He explained,
I know for a fact that every single day at the White House, it's a situation of trying to contain him.
Look, except for a few people, the vast majority of our caucus understands what we're dealing with here… and the tremendous amount of work that it takes by people around him to keep him in the middle of the road.
An explosive Oct. 11 report courtesy of Vanity Fair pretty much confirmed Corker's assessment. Several sources close to the president reported that he is "unstable," "losing a step," and "unraveling." Advisers are allegedly attempting to keep Trump in check, because he's known to slip into bad moods and has a difficult time staying focused.
Trump also reportedly told security chief Keith Schiller: "I hate everyone in the White House! There are a few exceptions, but I hate them!"
Gotta give a small shout-out to kindergarteners everywhere. We know you'd do better.