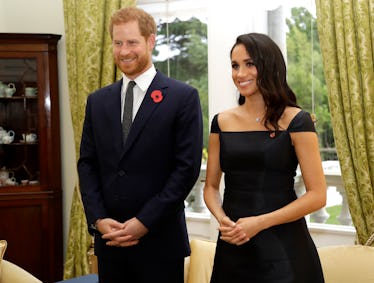 How Meghan & Harry Reportedly Plan To Raise Their Children Is Inspired By Princess Diana
Pool/Getty Images Entertainment/Getty Images
Prince Harry and Meghan Markle are really gearing up for their role as parents. Although Meghan isn't due to give birth until the spring of 2019, she and Harry are reportedly having talks about how they plan to raise their future children. So, how will Harry and Meghan raise their kids? Apparently, Harry's mom, Princess Diana, will have a big influence on however they choose to rear their children, at least according to a new report from Entertainment Tonight. Elite Daily reached out to Kensington Palace for comment on the report, but did not hear back by the time of publication.
According to ET's report, a source close to Harry and Meghan revealed that the couple are keen on raising children with strong humanitarian values, much in the same vein as Harry's upbringing with his mother.
"Meghan and Harry, who want to use their platform and profile to further their humanitarian and charitable interests, want to pass on those same values to their children," ET's source revealed.
The source also revealed that Meghan's mother, Doria Ragland, will have a significantly role in their growing family.
"They plan to spend a considerable amount of time in their Cotswold home and [Meghan's mom] Doria [Ragland] will have a prominent role in their family as the children's grandmother," the source said.
So, mothers and the roles they play seem to be very important to Harry and Meghan. And it's great to hear that they'll both be honoring their own moms in some way when it comes to raising their children.
Mothers aside, though, what else do Harry and Meghan plan to teach their children? The Duke and Duchess of Sussex reportedly hope to raise their children with a solid grasp on the real world, and that means they'll have jobs and do everything else regular, non-royal people do.
The source explained, "[Harry and Meghan's] children are expected to one day have regular jobs, and will be raised to appreciate the differences in society. They will have a healthy respect for boundaries like other children. They will have chores at home and be brought up with respect."
But all of that is a long way off, since Meghan isn't due for months. In the meantime, the royal family is preparing for the holidays. Christmas, which is an important holiday for the royal family, might be a little different this year, since Meghan's mom is expected to get an invite from the Queen.
"Doria's quiet dignity and grace at the royal wedding has earned her enormous respect from Meghan's new in-laws," a source told ET on Monday, Nov. 5.
According to the Sunday Express, the Queen actually broke protocol by inviting Ragland to the royal family's Christmas celebrations. And on top of that, it's reportedly an effort from the Queen to show Meghan that she's a welcome member of the family in a country where she doesn't have any.
"It's a mark of the Queen's respect for Meghan and an acknowledgment that she doesn't have any other relations in this country — unlike Kate who has the support of a very close family," a source told Sunday Express.
So, Meghan's role within the royal family is definitely changing the way they operate and I'm sure more changes are on the way with the new baby coming!