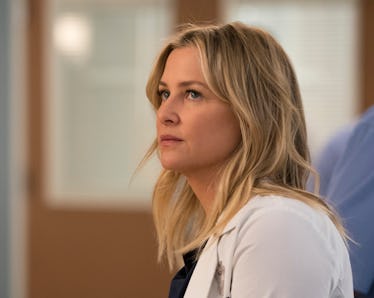 3 Fan Theories About Arizona Leaving 'Grey's Anatomy' That Will Make You Want To Cry
No one but Meredith Grey is ever safe on Grey's Anatomy, and the show shocked fans recently when it announced that both Jessica Capshaw and Sarah Drew would exit the long-running series when Season 14 ends this spring. The sudden news sent fans reeling to determine possible ways in which their longtime characters Arizona and April would be written out of the show. Viewers hope that there will be separate reasons for their departures rather than a freak fire, car accident, shooting, or other devastatingly tragic event that eliminates both of them, but like I said, nobody is safe in Shondaland. So, with my fingers crossed for a relatively peaceful exit in store, how will Arizona leave Grey's Anatomy?
With both the improbable and the realistic possibilities in mind, fans have crafted some fairly believable theories about Arizona's reason for leaving Grey Sloan Memorial Hospital. Compared to guesses about the spiraling April's fate, most predictions about Arizona end quite happily, which is great news for fans. Of course, even if Arizona leaves Seattle for the best reasons, watching it play out will be heartbreaking no matter what. We took a look at the three top fan theories about Arizona leaving Grey's Anatomy, and I already feel like crying.