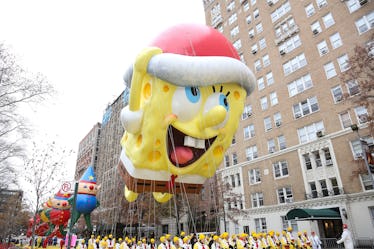 Here's How You Can Watch The 2017 Macy's Thanksgiving Day Parade
Rob Kim/Getty Images Entertainment/Getty Images
If you're anything like me, you find Thanksgiving to be the most glorious day of the year. I mean, on what other occasion are you encouraged to undo your belt buckle and top button at the dining room table while guests gaze on, eating their weight in mashed potatoes and apple pie? Exactly. It's a very special day to say the least. Of course, there's a lot to be excited for, but one of the best parts of the holiday is the Macy's Thanksgiving Day Parade, which everyone knows is the unofficial (but totally official) start of the Christmas season. That being said, as we inch closer and closer to the big day, now is the time to figure out how to watch the 2017 Macy's Thanksgiving Day Parade.
Unfortunately for those of us who rely on streaming services like Netflix, Hulu, and Amazon for our entertainment, it might be a bit difficult to watch the parade. Of course, there's always the traditional option: watching it on TV or streaming via NBC's website, but, for many, cable is a thing of the past and that's not an option; if that's the case, you might be in luck: Last year, NBC partnered with Verizon to offer a free live stream of the parade on Verizon's YouTube channel and, though there's no guarantee that will happen again this year, there's a chance they might announce a similar partnership once we're closer to the broadcast.
If, for whatever reason, that doesn't happen this year though, and you're left wondering where to watch, Facebook, Instagram, and Twitter are all great go-to options. Indeed, each social platform has its own live-streaming capabilities, and, more often than not, major broadcasts such as, oh... I don't know, the Macy's Thanksgiving Day Parade, make their way onto them.
One way or the other, you should be able to see the parade live, and it's certainly not a year you'll want to miss. This year, as in years past, Macy's is debuting five new floats for the parade; the new floats include "Everyone's Favorite Bake Shop" by Entenmann's, "Harvest in the Valley" by Green Giant, the ever-on-brand "Parade Day Mischief" by Sour Patch Kids Candy, "Shimmer and Shine" by Nickelodeon and "Universal Playground" by Sprout.
The Vice President of Macy's Parade Studio, John Piper, recently talked about how fun it was to bring Nickelodeon's float to life for this year's event. He tells CBS,
I think we used about 50 pounds of glitter on this float alone, just making everything shine and sparkle all the way through with all of the different characters. The kids are going to have to look closely because every character is on board, but they're not all in the same spot.
Nickelodeon isn't the only float pulling out all the stops, either. Piper also commented on the Sour Patch Kids' float, saying, "Those mischievous merry makers are joining the parade, but trying to have some fun shooting thumbtacks at one of our giant balloons."
It looks like this year will be just as entertaining as we'd expect.
In addition to those two floats glittering and causing trouble, there will be 26 floats in this year's parade doing their own thing. More than 8,000 people will walk in the parade for 2.5 miles down from 77th to 34th Streets in Manhattan, as well.
And who could forget about the performances?! Every year there's something fun to look forward to, and this year we'll get to see Wyclef Jean, Andy Grammer, Andra Day, and Jimmy Fallon with The Roots.
Susan Tercero, the Vice President for Macy's Branded Entertainment Team recently spoke with Pix 11, and tried to express why the parade is so special and such a lasting part of NBC's history; the VP chalks it up to tradition, saying, "You watched the parade. Your parents watched the parade. Your grandparents watched the parade. It's just part of a family tradition."
You can enjoy the parade from 9 a.m. to noon on Thanksgiving morning. It will be broadcast on NBC.
Check out the entire Gen Why series and other videos on Facebook and the Bustle app across Apple TV, Roku, and Amazon Fire TV.