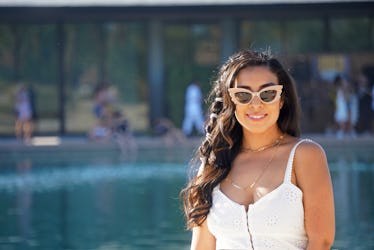 You've Probably Been Using Hairspray All Wrong, So Kim K's Hairstylist Is Here To Help
Stephanie Montes
My mom uses hairspray every single day. (But I think that's everybody's mom, right?) I, on the other hand, can probably name every instance where I spritzed hairspray on myself. Aside from prom, my quinceañera, my wedding day, and a few longer days in between, I can't say that I've intentionally reached for the popular hair product. As it turns out, I had just been using it wrong all along. For a new outlook (and a lesson in how to use hairspray correctly), I turned to TRESemmé Global Stylist and member of Kim Kardashian's glam squad, Justine Marjan. Since talking to her, I've used hairspray more in the last two weeks than I have in the last two decades. (And I wasn't even celebrating anything!)
There's a reason I turned to hairspray on those huge milestone events in my life. I knew I was in for a long day of hugging people and taking pictures, and I needed my hair to look just as good when I left the house as when I got back. I viewed hairspray as the glue that would hold my style in place, and while that is certainly true, Marjan tells me, it's also great for "preventing frizz, fly-aways, and [combating] the effects of humidity in the hair."
Like everyone else, I skipped wearing hairspray on the daily because I was afraid of having crunchy hair, but Marjan totally set me straight. "I think a lot of people are afraid of hairspray feeling heavy, stiff, or sticky in the hair," she explains. "This can be the result of spraying too close to the hair or using the wrong hairspray."
Marjan swears by the new TRESemmé Compressed Micro-Mist Hairsprays ($5; target.com) "because they release superfine micro-mist particles that don't just sit on the surface of the hair, but actually penetrate into the strands." She continues that she "[uses] it on set to create looks, then brush them out, and recreate new looks with more hair spray." This way, she doesn't have to fret at all about "build-up or white flakes."
The thing about the Micro-Mist Hairsprays is that they're available in four different levels, and I couldn't wrap my head around why Justine used two different ones when creating a single style on me. First, she sprayed TRESemmé Compressed Micro-Mist Hairspray Hold Level 1: Texture ($5; target.com) from my roots to ends, and then, she curled my hair and finished with TRESemmé Compressed Micro-Mist Hairspray Hold Level 4: Extend ($5; target.com). "I do this so that I have lightweight hold while I am working with hot tools, then I use the stronger hold for finishing to seal in the look," she says. She created this wave on my hair (see below), which held for three whole days. (Don't judge me!)
Justine Marjan gets it right when she says hairspray has a stigma of being an old-school product used to create mom hairstyles. "For so long, we saw super stiff hair looks from the '80s," she says. But these days, hairspray is more about adding shine, hold, texture, and provide a frizz-free finish. In fact, it's such a staple in her kit that Marjan says "hairspray is [her] ride or die product." "I like to use it when I wrap a piece of hair around a hair elastic to seal it. I spray it super close to the hair and coat it, so it stays," she explains. "I also like to spray it on my Mason Pearson brush before I brush through the hair to work the hair spray into the hair and create a super smooth, frizz-free finish." She even uses it for "super sleek and wet looks" and "to scrunch into the hair for lots of body and texture."
It's official, everyone. We've all been using hairspray wrong. And now's our chance to use it right.