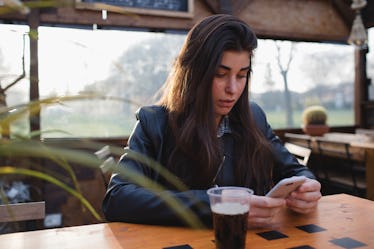 Here's How To Text Your Parents About Money If You Don't Know Where To Begin
Do you remember when your parents sat down and gave you "the talk"? Well, those anxious feelings are only the beginning of the emotions involved with asking your parents for money. A text might not be their preferred route for communicating about a topic as sensitive as money, but talking over the phone might turn you into a nervous mess at first. It couldn't hurt to educate yourself on how to text your parents about money, because a little extra intel might save you the headache.
Sure, you're an adult, but every human being needs help sometimes — and when it comes to money, there are so many potential ways you can mismanage funds. Are you unsure of whether or not to get a credit card, or are you clueless about how to budget? It's time for you to start reaching out to people, and not necessarily just your parents. Not everyone comes from a household where money is not an issue, and there's no guarantee that your parents have the answers for your finances — but, hey, they have been adulting longer than you, so they might be a good place to start.
As much as you might want to cringe whenever your parents refer to you as their "baby," you are their kid. So, give your backspace button a rest and take a little bit of advice below, sourced from a few experts who gave Elite Daily readers the green light to press "send."