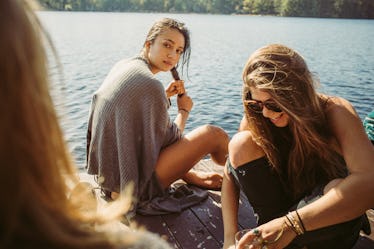 This Is How To Tell You & Your Partner's Mutual Friends That You Broke Up
When you and your boyfriend or girlfriend share the same group of friends, breaking up is bound to shake up the dynamic for everyone. It's a delicate situation that's not always easy to navigate. You don't want to put your friends in an uncomfortable position by forcing them to choose a side, but you shouldn't stay together solely for their sake, either. Once you do decide to end your romantic relationship, there are choices you'll have to make together as well as separately. The first step is figuring out how to tell mutual friends you broke up.
Above all, it's important to be honest. Let your friends know how much you value having them in your life. Make it clear that just because you and your ex are no longer together, that doesn't mean your other friendships have to end or even change. By stressing these points, you can potentially prevent your mutual friends from getting upset. If they do react poorly, gently remind them that while you did consider their feelings, ultimately you needed to do what was best for you and your happiness. Still nervous about breaking the news? Here's how to approach this difficult situation in the best possible way.