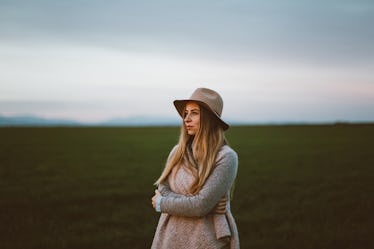 6 Subtle Red Flags That Your So-Called "Friend" Is Actually A Friend Stealer
There's no avoiding it — making new friends can be difficult AF. But as we get older, it just seems to get even harder. From work and school, to commitments and family, there is so much we have on our plates. It's certainly not as easy as bonding with someone over the shared love of recess anymore. So, the last thing you probably want in your life is a fake or toxic friend. This is why you should know how to tell if your friend is trying to steal your friends with a few key red flags.
Let's be real here — no one has time for that BS. As hard as you may find it to make new friends, other people find themselves in a similar boat. And sometimes, they'll go to annoying lengths to find new friends — like mooching off of you, which is so not cool.
The truth is, this kind of friend is really a snake. It can be hard to spot them at first. They're quick, sly, and have a game plan in mind. It also sucks to cut a friend like this out of your life, especially if she's one that you thought you could trust with your life. But, friend-stealing "friends" have a way of being found out. So, if you've caught them early on, consider it a blessing. Need some pointers? If your friend is doing these six things, you just might need to cut her loose.