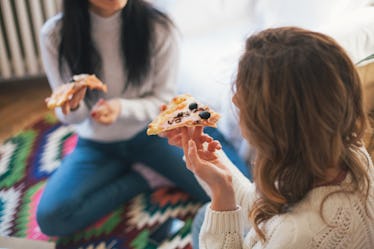 Talking About Food With Your Roommate Can Be Awkward, But These 5 Strategies Will Help
Unless you're an adamant foodie making up recipes as you go, snapping foodtography, and constantly talking about how ah-mazing the pasta sauce was the other night, you might not even realize just how important food is to you. That changes real quick though, especially when you're fresh out of college living in the real world without a meal plan at your disposal, or mom and dad footing the grocery bill. Even if it sounds trivial to you now, you need to figure out how to talk to your roommate about food while your living situation is still new because there really is proper etiquette to adhere to when preparing and purchasing your own meals.
Imagine this: You're coming home from a rough day at work, daydreaming about the mouth-watering orange chicken you saved for tonight's dinner. When you pop your head in the fridge, not only is there no full container waiting for you, there are remnants of the sweet sauce dotting your roommate's favorite plate in the sink. Busted. If only you'd had that quick chat about apartment food etiquette, right?
According to doctor of psychology and licensed clinical social worker, Dr. Danielle Forshee, LLC, if your roommate — whether they're a friend, loved one, or stranger — doesn't bring up "financial responsibility for food, responsibility for food, and [who will be] preparing food," it's up to you to start the conversation.
"This will give you a foundation for what you both know has worked and not worked, and what areas you are both sensitive to when it comes to [food]," Dr. Forshee tells me in an interview for Elite Daily.
First, she explains, talk about expectations around who is going to buy the food, whether or not you want to share food, and any and all responsibilities surrounding what goes on in the kitchen. If you're nervous, here are a few fool-proof ways to talk to your roommate about food without igniting major conflict.