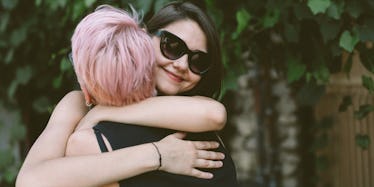 3 Important Ways To Support Your Partner If They're Living With A Mental Illness
Being the best partner to your significant other includes supporting them while they deal with things in their life: if they're having an issue with a friend or stressed about a particular class or project at work, part of your role as their partner is to help them through it. If your partner has a mental illness, that's one specific area of their life in which they might appreciate your care, love, and understanding. While dating someone with health issues isn't fundamentally different than dating anyone else, there are particular ways you can support your partner with a mental illness.
I spoke with co-founder of Cognitive Behavioral Consultants, a group of New York mental health professionals, and Yeshiva University psychology professor Lata McGinn, PhD, about the ways in which you can be there for your partner who has a mental illness.
Above all, remember that "mental illness is just as real as a physical condition," McGinn tells Elite Daily. "It doesn't mean the person is weak, crazy, or flawed or that they are fragile, or it is just in their head and they can just get over it."
The legitimate chemical differences in someone's brain when they have a mental illness should be taken seriously. So here's how McGinn suggests you support your partner.