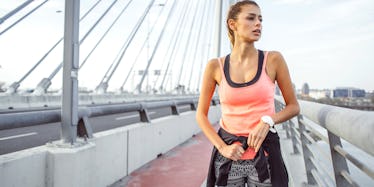 Positive Ways To Stay Motivated When You're Completely Burnt Out From Dating
Swipe, chat, date, delete, repeat. It gets tiring for sure. Figuring out how to stay motivated while dating when it feels like you're doing the same steps again and again can feel like an endless cycle with little reason to continue. Having the same first date conversation in which you know exactly what you're going to say is exhausting. I'd much rather stay at home and watch The Bachelor or The Good Place than endure yet another date that's a dead end.
We all need to shake it up when reaching that dating plateau, in which we keep getting the same results. It can be hard to know how to pivot our patterns, so I spoke with psychotherapist and women's support group facilitator Allison Abrams about staying motivated while dating. Her number-one tip while feeling frustrated with your dating life is to take a break.
Step away for a little to come back refreshed.
"Get offline and into the real world, where you're less likely to feel like a disposable Left Swipe," Abrams says.
Abrams recommends going full-out by deleting the apps for awhile. She says that insecurity can stem from repeated rejections on them, so as Eliza and Angelica Schuyler say, take a break. Abrams says that if you don't interrupt the cycle of dating and burning out, your attitude toward meeting new people can turn negative. She continues, "Stepping back allows you to evaluate any part that you may have played (the only part we really have any control over), and any patterns that may be self-sabotaging. Even if every date was honestly egregious, it never hurts to take a look at ourselves. We can always learn and grow."
I know firsthand that walking away from the apps for a little can make you even more excited to jump back in when ready. That distance and time away brings new enthusiasm when you're ready to swipe again. Right now, I'm at that point where I need to have a dating refresh – after a particularly bad string of dates, I want to focus on me, myself, and my Netflix account.
Julia Bekker, matchmaker and dating and relationship coach, agrees that taking a break from dating can give new life when you come back to it. "You just have to be patient with the process," she said. "Take breaks when you feel drained, set boundaries for yourself, and adhere to your standards. If a committed relationship is what you want, don't waste time with people who are more interested in casual dating."
Abrams encourages anyone feeling down about their dating life to put that energy into other activities. "It makes the dating process less important – and perhaps even more fun," she says. "In other words, it can take the pain out of dating. Most important to keep in mind throughout it all, is that you are okay, whether you have a partner or not."
And after all, if finding a partner is what you want – you can find that person anywhere. So if you take up a new hobby, such as trivia with your friends, a kickball team, or book club, you may meet your next partner there.
"And even if you don't, you're likely to learn something about yourself, as we learn from every experience – good or bad," says Abrams. "At the very least, you'll have some interesting dating stories."
Check out the entire Gen Why series and other videos on Facebook and the Bustle app across Apple TV, Roku, and Amazon Fire TV.
Check out the "Best of Elite Daily" stream in the Bustle App for more stories just like this!