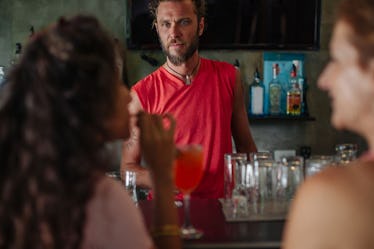 This Is How To Secretly Signal To Your Bartender That You Feel Unsafe On A Date
The scariest date I ever went on was actually at a Starbucks, not at a bar. It started off perfectly normal, but about halfway through my macchiato, my date started acting strangely. He was fidgety and nervous and increasingly agitated. I just tried to play it cool and act normal, because I had made the rookie mistake of letting him pick me up for the date and he was my only ride home. (This was in the dark ages before Uber was a thing.) I was stuck, and I didn't know how to secretly signal to a bartender — or, in my case, the barista — for help, so I figured I'd just ride it out and then ghost this dude immediately after I got home. Cut to us speeding up a busy street in the wrong direction while he demanded to know if we would be going out again. All I could think about was how to get out of the situation and how I would never, ever let myself end up like this again. It was time to get proactive about my safety if I wanted to keep dating folks I met on dating apps.
When I first heard about ordering an "angel shot," the memory of that date immediately sprang to mind. I thought maybe if I had some kind of code to let the baristas know I felt unsafe, I would have been able to duck out gracefully before things got scary. If you're not familiar with the angel shot, it is an idea that went viral when a restaurant in St. Petersburg, Florida, posted a sign in the ladies room about their system of letting the bartender discretely know if you need help.
If you felt unsafe for any reason, you could simply order an "angel shot" and they would know you need help. There was also an additional code that could tell them what, specifically, they could do to help. If you ordered it "neat," it meant you wanted to be escorted to your car, ordering it "with ice" would be a signal to call you a ride, and finally, ordering it "with a lime" meant to call the police. Pretty brilliant, right? Unfortunately, it's not very widespread. So, while ordering an angel shot is worth trying, you should also have a plan to make sure you have a discrete escape route on any date. Here are some ways to make that happen.