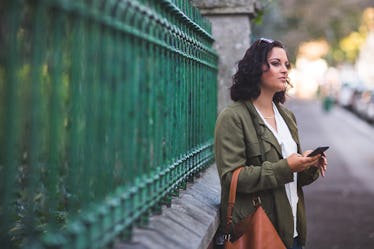 You Can Secure Your Uber Fare Hours Before Your Ride With This Awesome New Feature
During the holiday season, wallets tend to get lighter a little faster than normal. There are more dinners out with long-lost friends, presents to buy, and of course, lots of traveling. Enjoying the holiday season and catching up with old pals shouldn't put you in the poor house come January. Thanks to this ride-sharing app, you can now learn how to schedule an Uber and lock in the cost of the ride in advance of when you'll need it, so your budget won't be filled with question marks when it comes to your transportation.
An Uber spokesperson talked with Elite Daily and told us the ride-sharing company recognizes that the stress of the holiday season can really take its toll — oftentimes, in the form of running way late for a flight home or your annual company holiday party. You know the drill: you're packing your last sweater or trying to dry your hair while simultaneously putting on heels, and all of sudden, you look at the clock and realize you should have left 15 minutes ago. By that time, Uber Surge Pricing could be pretty steep, turning your ride to the airport from relaxing to a personal budget crisis.
Panic over pricing no more, because Uber is setting upfront fares with Scheduled Rides. Next week, the company is launching the upfront fares when you schedule a ride 60 minutes or more in advance of your trip. So, if you need to leave at 3 p.m. to catch your flight home, you can schedule your Uber by 2 p.m. and lock in the exact cost of the ride. That way, you can get all of your last-minute packing done with the comfort of knowing that your ride is all set, and you won't be paralyzed by sticker shock when you finally pull up to the airport.
It's super simple to use, too. All you have to do is open the Uber app, tap on the car icon right next to where it says "Where To," schedule your ride (up to 30 days in advance), enter your pickup and drop off locations, select your Uber type (Pool, X, Select, etc.), and then hit "schedule."
Once that's done, you'll know exactly how much you'll be paying once you complete the trip. Remember, make sure that you schedule the ride at least 60 minutes before you'll need to take it in order to take advantage of the new upfront fares for Uber's Scheduled Rides.
Uber first introduced Scheduled Rides in June 2016, but this is the first time you can secure an upfront fare for them. Previously, when you used Uber Scheduled Rides, you were provided with a fare estimate (no matter how far in advance you booked the ride), and that estimate could fluctuate by the time you completed your ride, resulting in paying a higher fare than anticipated (not really the best way to spread holiday cheer).
Be sure to note that if you schedule your ride less than an hour before you need to leave, you will still only receive a fare estimate. The upfront fares are for non-procrastinators only. Also, if your scheduled trip takes much longer than expected or you make extra stops along the way, your upfront fare may increase.
For the most part, though, scheduling your ride well in advance will provide you with the benefit and security of an upfront fare. So, now you can check one thing off of your holiday to-do list (securing rides to the airport or your company holiday party) and relax during your Uber Scheduled Ride knowing that your budget is still in tact — which will make for a very happy holiday, indeed.
Check out the entire Gen Why series and other videos on Facebook and the Bustle app across Apple TV, Roku, and Amazon Fire TV.