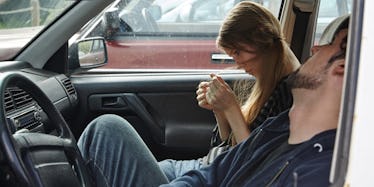 How To Say No To Hanging Out With Your Partner Without Sounding Like An Assh*le
Even the most loved-up couples need time apart, because spending 24/7 with another person is not good for any two people. Too much time together can make one or both of you irritable and in need of some distance. And yes, while absence does make the heart grow fonder, there are other reasons you might need to spend some occasional time apart. Whether you need to hole up in your bedroom and read a new book, or have a night out with some other friends, how to say no to seeing your partner is essential to leading a life outside of your relationship. Remember, it's healthy to spend time apart from each other.
I spoke with therapist Nicole Richardson on what you should do in this situation. There are many things to consider: Do you need alone time? Are the activities and dates you do together only fun for your partner? Do you not see your other friends enough? Are you avoiding your partner for reasons you should definitely evaluate? After you've figured out why you don't want to hang out with your significant other on a particular day, determine the best way to let them know. Here are Richardson's best tips to, well, not be an assh*le.