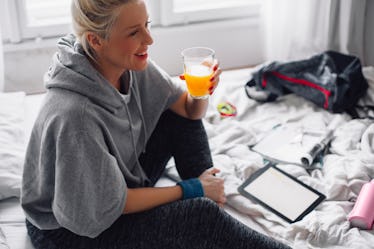 6 Little Ways To Reward Yourself After A Workout, According To Experts
As someone who genuinely loves to work out and will hop at the chance to give the latest up-and-coming exercises a go, I'm well aware that I am a rare breed of human. Despite what health and wellness bloggers want you to think, not every routine is all fun and games, and a lot of people genuinely hate working out for that reason. The key to working out is to find programs you actually like, stick to them, and establish how to reward yourself after a workout, because a little TLC to look forward to is the best form of motivation.
Refinery29 recently reported on the results of a survey conducted by fitness equipment reviewers Fit Rated, which found that a lot of people simply do not like to work out, and need a serious boost of motivation to do so, mostly in the form of what the researchers called "indulgent incentives." In other words, there better be something delicious in the fridge after a miles-long run or several intervals of split squats.
Ever since fitness became a trend worthy of Instagram likes, there aren't many social media influencers out there who will outwardly admit working out just isn't their thing, or that it's not always that much fun. But, I'm here to tell you this idea that every workout is a good workout is a façade, and that not every trendy routine is going to be the right fit for you. Like anything else, it takes a decent amount of trial and error to find what lifestyle blogger Simply Taralynn likes to call a "fitness happy" — aka what programs and workout schedules work for you and make you smile.
So, while you work out what exercise routines work for you, here are a few ways to reward yourself after you train, no matter what it is that gets your body moving.