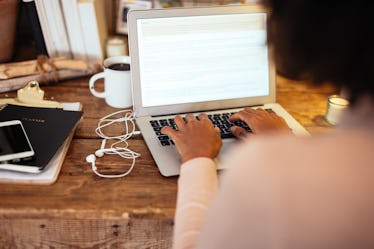 Here's How To Save Your Grace & Dignity After This Classic Office Mistake
Bonninstudio / Stocksy
If you're just starting out or will start your first real-life adult job soon, chances are you're pretty nervous. You might be afraid of messing up at work — and I hope I'm not terrifying you by saying that, yes, inevitably you will. One of the most embarrassing, stress-inducing mistakes that you might encounter is when you send a message meant for one person and accidentally send it to your entire office. So how can you recover from a dreaded reply-all blunder?
Let's be honest: there's not really any particular way to bounce back from a really bad reply-all mistake. If this has happened to you, I have three words of advice: apologize, apologize, apologize. Apologize profusely and eventually (depending on how chill your office environment is), your co-workers will forget about the mistake and move on. In the meantime, give yourself a break, shrug it off, and pretend you're not squirming inside.
But if you're looking for some prevention, there are a couple of ways that you can keep this from happening — especially if Gmail is your primary email service provider. For one thing, you can set up a time delay in the seconds it takes from when you hit "send" to when Gmail actually send the email off. Just go to "Settings" and check the box that says "Enable Undo Send" to set this up. You can customize the amount of delay time you'd like, anywhere from 5 to 30 seconds.
Also, right below the "Undo Send" you have the "Default reply behavior" section, where you can click on "reply" as your default setting. This way, when you click to reply to a message automatically and forget to check who you sent it to, you can be sure that you only replied to the single sender of the email.
Something you absolutely should never, ever do in a reply-all situation is asked to be removed from the thread. Just take it from The New York Times. In the shortest story ever printed in the paper's history, when posing the question of whether or not to hit "reply all" to ask to be removed from an email thread you weren't meant to be in, the answer was simple "No." That's right — a one word article. Groundbreaking.
But just in case you've already had an embarrassing reply-all accident and are still feeling mortified? You can take comfort in the fact that you're definitely not alone. A few people shared their real-life, scarring reply-all email mistakes with Elite Daily to ease your pain.