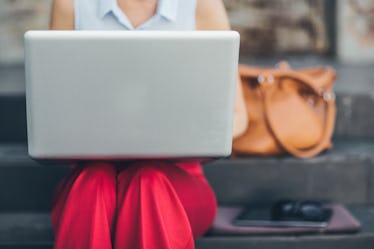 If You Have To Look At Screens All Day, Here Are 8 Little Ways To Protect Your Eyes
When you're looking at a screen all day long for work, it can take a serious toll on your emotional and physical health. Computer vision syndrome is real, people, and if you're required to use a computer for work, it can feel unavoidable. Figuring out how to protect your eyes from screens has basically become a necessity for most people, but rest assured, there are several ways to look out for your well-being here.
According to the American Optometric Association (AOA), computer vision syndrome happens as a result of staring at screens (computers, iPads, phones, etc.) for extended periods of time. It involves serious eye strain and discomfort, as well as head and neck pain, to name some of the more common symptoms. And while it's not clear how many people actually have this condition, a 2014 report on the subject estimates that somewhere between 45 and 70 million people spend too much time looking at screens, and may very well be at risk for developing the syndrome.
To a certain extent, looking at screens is pretty much unavoidable for many of us. Nearly all jobs these days require you to sit in front of a computer all day, so you can't exactly quit your current job and expect to find something different in this regard. What you can do, though, is take some steps to prevent the symptoms from getting too bad. Here are eight ways to protect your eyes from screens, even if you have to stare at them all day long.