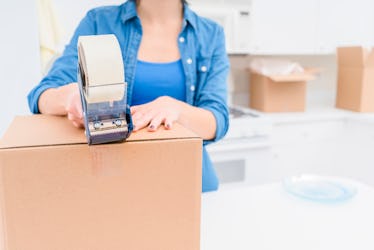 Yes, You Can Move Back With Your Parents After College & Not Have It Suck. Here's How
Suzanne Clements / Stocksy
Confession time: I moved back in with my parents for seven months after I graduated from college. While I had certain expectations for how things were supposed to be once I moved in — y'know, like being able to stay out as long as I wanted or sleeping peacefully 'till noon (no judgment) — they turned out to be the complete opposite. So, now that I've lived through it and have a refined insight on how to move back home after college with your parents, here's everything you need to know.
Post-graduation, I knew that I wanted to save money and start paying off my school debt as quickly as I could, and after communicating this to my folks, they allowed me to move in rent-free for as long as I needed to.
Going into it, I knew that though I have a good relationship with my parents, we hadn't always seen eye-to-eye when we lived under the same roof. In high school, sometimes I felt like they should adhere to "quiet hours" even though it was their house (the audacity, right?). Or other times, they'd feel like they had total access to my room because it technically wasn't my room. But all of our differences had occurred back when I was a teenager, so I figured that things would be drastically different if I moved in as an adult. It didn't take long before I realized that wasn't exactly the case.
But before I scare you away, Dr. LeslieBeth Wish, a clinical psychotherapist and founder of lovevictory.com, tells Elite Daily in an interview to keep in mind that "everyone has a different story." She also admits that moving back home can be "really hard, especially if your parents have different sets of expectations or rules ... or don't want you there," but says it's still manageable, nonetheless.
And that couldn't be more true. Ultimately, my experience was much more eye-opening than I'd anticipated. I learned a lot — and my effort is your gain. With these seven tips, moving in with your parents should be a breeze, too.