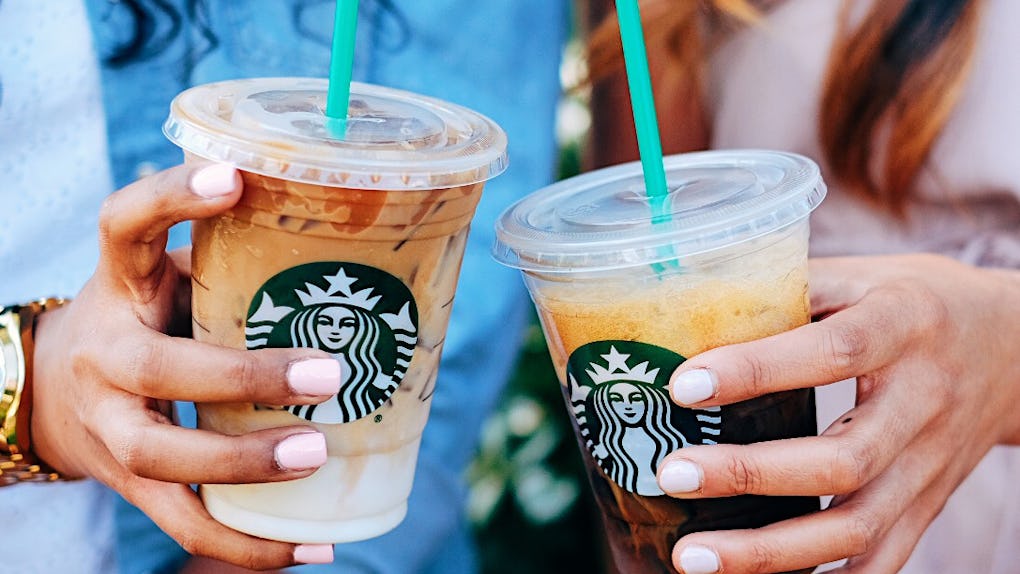 Starbucks
How To Make Starbucks Cocktails If You Want To Feel A Different Kind Of Buzz
You probably think of Starbucks when you're in need of a morning cup of coffee or when that 2 p.m. slump is all too real, but the coffee chain likely doesn't come to mind when you think about cocktails. Well, it turns out there are so many hacks that can turn your tea or latte into your favorite happy hour sip. Thanks to the magic of the internet, people are sharing their favorite at-home recipes for livening up your Starbucks order to give you more than just a caffeine boost. Read on to learn how to make Starbucks cocktails.
Of course, this isn't like a regular secret menu hack where you can simply add a pump of flavored syrup and be done. The addition of alcohol (if you're 21 years old and over) will have to be done outside of the Starbucks store — but if you have the right libations on hand, you can really mix up some tasty sips. With the amount of recipes I've come across in my search, it seems as though people have been thinking outside the box (er, cup) for some time.
So, make sure that your bar cart is stocked, and get ready to discover a whole new world of spiked Starbucks sips.
Strawberry Acai Refresher + Peach Vodka
Not surprisingly, the fruity offerings on the Starbucks menu easily lend themselves to adding a boozy kick. This creation comes as an answer to a Reddit question about adding alcohol to your favorite Starbucks drink that was posed by BulkBrewFrenchPress.
Reddit user short-blonde suggested the simple combination of a Strawberry Acai Refresher with a little peach-flavored vodka. To create your own, all you need to do is order the Strawberry Acai Refresher and add your go-to peach vodka.
I'd also recommend pairing this fruity concoction with an afternoon spent poolside, but that's totally up to you.
Iced Passion Tea Lemonade + Sweet Tea Vodka
A vodka lemonade sounds like a pretty obvious pairing, but Twitter user @DrunkDiy takes it to the likes of an Arnold Palmer (iced tea and lemonade) with the pairing of a Teavana Shaken Iced Passion Tea Tango Lemonade with sweet tea vodka.
The addition of the sweet tea-flavored vodka sounds like it would create a delicious drink, and it also sounds like the perfect companion to a lazy summer afternoon.
The Twitter recipe also calls for a passion fruit liqueur, but I'm sure it will still taste delightful without it.
Iced Coffee + Bailey's
This spiked coffee creation comes from Strangelooks. For the perfectly caffeinated and boozy sip, all you need to order is a tall Starbucks Iced Coffee Blend with one or two shots of dark mocha syrup (depending on your taste preference). Then, you can add shots of Bailey's to taste.
The Bailey's works double-duty in this recipe as the cream and booze component, so you can hold off on the milk or cream when you order.
Of course, you should reserve this recipe for a work-free day, but it does sound like a great start to a "Sunday Funday."
Cool Lime Refresher + Rum
Secret menu items are usually well-known among baristas, and the Starbucks hacks with an alcoholic kick are no exception. The Barista Life blog is home to all the boozy secrets, and this take on a mojito comes from @alixrussell.
To mix it up, order a Starbucks Cool Lime Refresher and ask your barista to go light on the water and add a pump of peach syrup. Your only job is to add a shot or two of some light rum and enjoy!
These fruity, boozy Starbucks sound so tasty, and you should probably add them to your summer to-do list ASAP (I definitely am).
Cool Lime Refresher + Strawberry Acai Refresher + Tequila
It's back to the knowledgable baristas for this boozy creation. Barista Life shared this refreshing drink thanks to @alliiraee. This sip sounds like an amped up margarita, and it will require you to ask your barista for some alterations to the regular Starbucks Refresher recipe.
First, order a Starbucks Cool Lime Refresher with no water. Substitute half lemonade and half Strawberry Acai Refresher in place of the water. Barista Life warns this will up the cost of your drink, but it sounds so worth it. Finally, add your favorite tequila and sip away.
This sounds good enough to make me swap out my go-to spicy margarita at the next happy hour.
Cold Brew + Kahlúa
If you're not a Bailey's and iced coffee fan, then you can try out the other spiked coffee recipe from Barista Life. Thanks to @vagabonddaughter's cold brew hack, you can still enjoy a boozy sip.
To mix up this super simple recipe, order Starbucks' cold brew coffee and then add your desired amount of Kahlúa. Really, it's that easy.
Once again, it's best to reserve this spiked sip for the nothing-to-do days on your calendar — and it really sounds like a delicious way to do nothing.
As soon as you get in on the spiked Starbucks drink game, you might wonder what other creations you can mix up. Don't worry, there is no shortage of at-home Starbucks cocktails. From the looks of it, pretty much any iced fruity sip pairs well with vodka, rum, or tequila.
To play it safe, though, you might want to stay away from blended boozy sips because the beloved Frappuccino might not fare so well in its alcoholic transformation unless you plan on blending in the booze when you get home. Reddit user haileybearing warns that the liquor will likely wind up separated from the Frappuccino.
Even with the Frappuccino off your at-home boozy menu, you still have plenty of options. So, order your Starbucks starter beverage, pour in your liquor of choice, and enjoy the wonderful world of Starbucks cocktails.