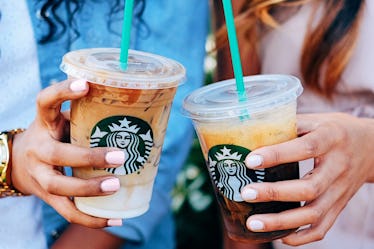 Starbucks Cocktails Are So Good & You'll Wonder How You Went This Long Without Them
You probably think of Starbucks when you're in need of a morning cup of coffee or when that 2 p.m. slump is all too real, but the coffee chain likely doesn't come to mind when you think about cocktails. Well, it turns out there are so many hacks that can turn your tea or latte into your favorite happy hour sip. Thanks to the magic of the internet, people are sharing their favorite at-home recipes for livening up your Starbucks order to give you more than just a caffeine boost. Read on to learn how to make Starbucks cocktails.
Of course, this isn't like a regular secret menu hack where you can simply add a pump of flavored syrup and be done. The addition of alcohol (if you're 21 years old and over) will have to be done outside of the Starbucks store — but if you have the right libations on hand, you can really mix up some tasty sips. With the amount of recipes I've come across in my search, it seems as though people have been thinking outside the box (er, cup) for some time.
So, make sure that your bar cart is stocked, and get ready to discover a whole new world of spiked Starbucks sips.