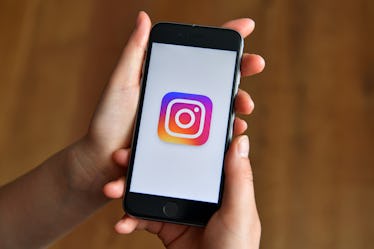 This New Instagram Feature Will Help You Lurk In Secret Without Interruptions
Carl Court/Getty Images News/Getty Images
To help you keep up with your followers, Instagram recently released a feature that lets your friends know when you're active on the app. While I am a big fan of receiving hilarious memes from my friends on Instagram, I don't think they need to know my every single move on the app. Of course, it can be helpful if you want to make sure that your BFF sees your message right away, but what about those times when you simply want to scroll in peace? Read on to learn how to hide your activity status on Instagram.
On Thursday, July 19, Instagram announced its new feature, which displays a green dot next to your Instagram handle to indicate to your friends that you are currently active on the app, but you can easily switch it off to stay on the down-low. The feature appears in your Direct inbox next to friends who show up in a list when you send a post from the Instagram Feed, per the blog post on the Instagram website. The only friends who will see your activity status are those accounts that you follow back or anyone you've talked with in Direct.
Even so, you might want to turn off your activity status for a little more privacy.
It's super simple to hide your activity status from your pals on the 'Gram, per Lifehacker. First, you need to go to your Instagram profile. Then, tap on the three lines on the top right corner of the app. Next, tap onSettings. Then, you can scroll down to the Privacy section and tap on "Activity Status." Finally, toggle off the button that says "Show Activity Status" and your whereabouts on Instagram will no longer be public.
It's important to note when you turn off your own activity status that you will also no longer be able to see the activity status of other Instagram accounts. That doesn't mean your besties won't get your Direct Messages right away, but you won't be able to know if they're currently active on the app.
Thankfully, being aware of the activity status of your friends on Instagram isn't the only way to know if they open your message right away. If you do want to make sure you see all of your Direct Messages as soon as they're sent from your favorite meme-sharing BFF, you can enable notifications for Instagram Direct.
To make sure that you get an alert when you have a new message in your Direct inbox, you can enable the notifications in your Settings. Once you're in Settings, scroll down to the "Notifications" section. From there, you can control which features you get immediate notifications for by tapping on "Direct Messages."
From there, you can open the message immediately or whenever you want to. Since there's no option yet to only make your activity status available to select people on the 'Gram, you may simply want to turn it off altogether to maintain some privacy. Thankfully, it's so easy to do, and you can always turn it back on if you want to. No matter what your activity status is, you'll always be able to receive Direct Messages, so you can keep sending all the hilarious memes your Instagram besties can handle.