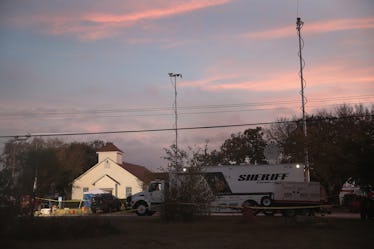 Here's How You Can Help Victims Of The Texas Church Shooting After Horrifying Attack
Scott Olson/Getty Images News/Getty Images
On the morning of Nov. 5, a small, tight-knit community in Texas was rocked by a devastating massacre. A shooter descended upon the First Baptist Church located in Sutherland Springs, TX and opened fire, killing 26 worshipers. With a population of only several hundred, it goes without saying that this small town is absolutely devastated by loss they're experiencing. So, if you're wondering what you can do, here's how to help victims of the Texas church shooting.
On Sunday morning, in the middle of the First Baptist Church's 11 a.m. service, a shooter entered the church and opened fire, killing at least 26 and injuring 20 more, many of whom were children. The incident is the worst mass shooting in Texas' history, according to ABC News. While the exact motive is still unclear, the incident is currently believed to have been fueled by a domestic situation, according to authorities.
This town lost about 4% of their population, per CNN, and that's no insignificant loss. In the aftermath of the attack, there's been a massive outpouring of sympathy for the victims, their families, and for the Sutherland Springs community itself.
And while things may never return back to normal, there's plenty of ways to help this small town heal and rebuild.
There's a few places that you can donate to help the victims' families and the community rebuild following this tragedy. If you'd like to donate directly to the First Baptist Church of Sutherland Springs directly, the church is accepting donations through their website and their Facebook page. All major credit cards are accepted via PayPal, and donations will funnel directly to the church and its ministries.
There are also two GoFundMe pages that have been set up and are verified as trustworthy places to donate.
One is the Sutherland Springs Shooting Fund, that has been set up by Hope Heroes NFP, also known as the Hardest Hit Family Relief Fund (HHFRF), a certified charity according to GoFundMe. Per their fundraising page, all money collected will be distributed directly to the families of the victims. HHFRF President Ryan Gergen writes in the Go Fund Me description that, "Donations to the Sutherland Springs fund are held separately from general donations," and that his organization, "will work with the Sutherland Springs Chamber of Commerce" and Texas officials in order to fairly distribute the funds.
The second page is the FBC Sutherland Springs Shooting, set up on behalf of the First Baptist Church of Sutherland Springs by Kori Crow. Crow is a business owner living in Austin, and set up the fund due to the church's official webpage experiencing glitches, which she assumes are due to overwhelming traffic flowing to their site. This page has also been certified by GoFundMe. All money collected will be distributed directly to the church and their ministry.
If you live close to Sutherland Springs, there are also opportunities to donate blood for the victims that are still suffering from wounds in local hospitals.
According to TIME, you can visit various medical centers in the area on Nov. 12 and 21 and help potentially save lives. The full donation schedule is as follows:
On Sunday, Nov. 12, you can donate at Sacred Heart Catholic Church in Floresville, Texas
Also on Sunday, Nov. 12, you can donate at St. Anthony's Catholic Church in Elmendorf, Texas
And on Tuesday, Nov. 21, you can donate at Connally Memorial Medical Center from 9 a.m. CST to 1 p.m. CST
While the devastation and the loss that this community experienced will undoubtedly last, every little bit counts when it comes to helping those affected heal from this tragedy.