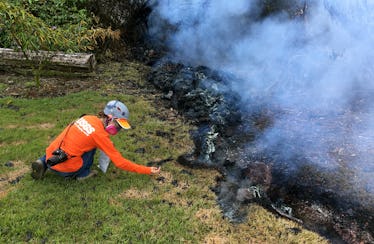 This Is How You Can Help Hawaii Residents Affected By The Kilauea Volcano
Handout/Getty Images News/Getty Images
An eruption at Hawaii's Kilauea volcano on May 3 and a subsequent earthquake at the Big Island's eastern edge has destroyed more than two dozen homes already, according to published reports. Oozing lava continues to pose a threat to surrounding communities, and residents have no way of knowing how long they might be displaced. Luckily, there are ways to aid recovery efforts if you are watching this unfold from the mainland. Here is how to help Hawaii residents affected by the Kilauea volcano.
There are currently eight families in need of financial support on GoFundMe, the fundraising website. The donations will help families get back on their feet via paying bills, living expenses, rent and/or utilities, food, shelter, or infant care.
One family, Colleen and Joshua Block, who own a bed and breakfast on the Leilani Estates Subdivision (right near the site of the eruption), wrote in a post that their "lives and world were changed in an instant" on Thursday, May 3. They lost their home and their business in one fell swoop, according to their GoFund Me page, which has been verified by the website.
"While headed home to begin thinking about preparing to evacuate due to the Possibility of a Volcanic Eruption, soon after arriving we were bombarded by a strong smell of volcanic gas," the Blocks wrote in a post. "It got stronger quickly until we were choking on it. We grabbed whatever we could, including our four dogs, and in 10 minutes got baby in the truck and got out of there as soon as we possibly could."
Other posts in the GoFund Me thread tell the stories of people who tragically lost their homes in the volcanic event last week. Thursday's first eruption emanated from the East Rift Zone, a fissure in the volcano separate from the summit, and ended around 6:30 p.m. local time. The split was nearly 500 feet long, with a spread of about 30 feet, and was actively bubbling for about two hours, according to the U.S. Geological Survey's volcano feed. At times, some of the lava was shooting 330 feet into the air the U.S. Geological Survey said.
A Pahoa Elementary school teacher, Amber Makuakane, was one of the first whose home was destroyed by the initial fissure Thursday. Her fundraising page says that she escaped with some clothes, her kids bikes, and her important documents, among other things. Like many others, Makuakane had to flee the area on short notice.
There are many other ways to get involved, aside from reaching out to individual families who have verified GoFund Me pages for damages and living costs associated with the volcanic activity. Harry Kim, the mayor of Hawaii County, which encompasses the entirety of the Big Island, released a news release on Friday, May 4, directing people to the local division of the Salvation Army.
"The County of Hawai'i is truly grateful for the outpouring of generosity from our community, who want to help their distressed neighbors affected by the eruption event," the news release stated. "Anyone wishing to make donations for those affected by the eruption event in Puna, please contact the Salvation Army at (808) 756-0306."
AT&T has activated its text-to-donate line, too. To make a donation, text REDCROSS to 90999 — that will send a $10 donation to the American Red Cross and its recovery efforts, which will then appear on the donor's monthly bill. Donations may also be made directly to the American Red Cross Hawaii Chapter through its website or by calling (808) 739-8109.
Wendy Stovall, a volcanologist with the USGS, told the Post that "As the eruption progresses, there will become a preferred pathway for the magma to go through. Some of the outer vents along this fissure line will start to close up and congeal because the lava is going to essentially harden."
Geologists said the seismic activities around Puna most closely resembled a 1955 eruption, according to Hawaii News Now. That eruption lasted about three months and left almost 4,000 acres of land covered in lava, the news site reported. Hopefully this time around will not be as prolonged. You can check the Hawaii County website for updates on the fluid needs of the community, as well as other ways to donate.