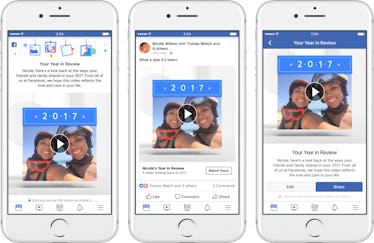 Facebook's Year In Review Will Let You Relive 2017 Even If You Don't Want To
Facebook
Thankfully, it's time to bid 2017 adieu. There have been tumultuous events and plenty of ups and downs, but we've finally reached the end. If you're interested in looking back on all that's happened, learn how to get your Facebook Year In Review so you can reflect on different experiences from these past few months.
Beginning Wednesday, Dec. 6, users can relive their top moments by visiting Facebook.com/yearinreview. You'll be treated to a personalized video that you can share with friends, and it'll highlight what was most important to you this year (technically from Jan. 1 to Dec. 1, according to a Facebook press release). It's interesting to take a look back at this type of footage, and let's be honest: You're always curious what will pop up in your news feed (no judgement, we're right there with you).
Although these types of features typically highlight festive and exciting moments throughout the year, Facebook's Year In Review — which is determined by keyword volume comparisons and daily keyword spikes, among other factors — definitely took a somber note. From natural disasters such as Hurricane Harvey and the earthquake in Mexico, to One Love Manchester and the horrific shooting in Las Vegas, these highly publicized happenings definitely reflect the difficult times we experienced worldwide.
We've reached the point where it seems no location is off-limits in terms of danger, and sadly, it feels as though so many places we love were destroyed by horrible weather conditions. There was definitely no shortage of bad news when it came to 2017. News broadcasts would become more and more difficult to bear with each new tragedy.
However, as dire as the situations might have been, there is some good that came out of the negative events.
For one, people joined together via social media to help one another when they needed it most. Facebook uncovered a story of a man who put together 300 lunch packs for those who had been affected by the damage in Mexico, according to a press release sent from Facebook to Elite Daily. Likewise, a story also circulated that a man from India — thousands of miles from the U.S. — helped raise $20,000 via the donate button on Facebook Live to help people who were affected by Hurricane Harvey.
There was definitely a little light in all of that negativity, and it shows just how wonderful people can be when the unthinkable takes place. There were other moments with a more positive effect, however, such as Super Bowl 51 and the Total Solar Eclipse in August. Though people were on opposite ends of the country, they came together to share their experiences about each event. In a way, we were all unified, regardless of our location.
Another plus? Facebook uncovered that 2017 events also showed how people — particularly women — came together to fight for what they believe is right. International Women's Day was the number one most talked about event this year, according to Facebook, and people worldwide took advantage of the huge event. Here are some of the site's statistics from that day, according to a Facebook press release:
More than 165 million people generated more than 430 million interactions worldwide.
More than 190 countries celebrated International Women's Day in their respective languages.
The US, Brazil, India, Mexico and Argentina drove the majority of International Women's Day conversations on Facebook, with these top 5 countries making up over 50 percent of posts.
Pretty interesting, huh? Social media might be remote, and there is certainly a difference between an app and real-life connections, but you have to give people credit for coming together online during these times.
Enjoy your favorite moments of the year and give credit to those who joined forces when the world needed it most. Get ready for 2018 and all that it will bring.