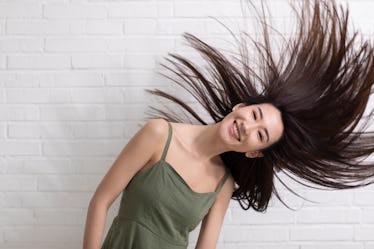 How To Get Soft Hair In 10 Easy Steps, According To Experts
BJI / Blue Jean Images/blue jean images/Getty Images
Currently experiencing hair that's drier than usual, and wondering how to get soft hair? Generally, to enhance your hair's softness, you'll want to amp up your conditioning game and cut down on damage-causers (like hot tools and hair dye) — but there are also plenty of other things you can do that you may not have thought of. To find out, keep reading for 10 clever tips from five professional hair stylists. But first, some background.
As for why some people have hair that's not as soft? As Jessie Lee Montague, a hair stylist in Rhinebeck, New York, notes, genetics play a big role in the feel and texture of one's hair. But there are additional factors that affect the way our hair feels, like shampooing in areas with hard water, for example (in addition to the more obvious culprits like hot tools and chemical treatments).
Dan Sharp, a hairdresser and celebrity stylist in Brooklyn, New York, echoes that genetics play a big role in the way our hair behaves, but so do our hair habits. He recommends shampooing less often, avoiding excessive heat styling, using moisturizing hair products, and taking care of yourself by eating well, drinking lots of water, and getting plenty of sleep. Most importantly, he believes it's important to like yourself and your hair.
Tia Ashe, owner of Love Hair Salon in Kingston, New York, adds. "Your hair should not be compared to anyone else's. You — and your hair — are unique, so what may work for others that have the so-called 'same hair type' may not work for you. I have yet to service two clients that have the same exact hair."
With that in mind, scroll on to find out how to get softer hair in 10 easy steps.
We only recommend products we love and that we think you will, too. We may receive a portion of sales from products purchased from this article, which was written by our Commerce team.