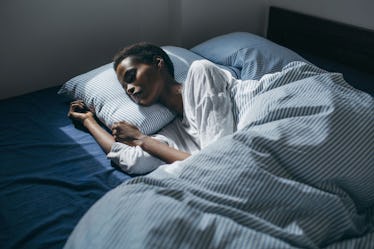 This Company Will Pay You To Sleep For A Month & It's Literally A Dream Job
When I think of summer jobs, long days spent in the sun working as a lifeguard or a camp counselor usually come to mind. Well, one company is offering the seasonal job of a lifetime, and your only responsibility is to sleep on the job. Interested? I thought so. Read on to learn how to get paid to be a Simba Mattress sleep tester, so you can land your dream job this season.
According to Travel + Leisure, you'll be paid for your sleep services in August with a free Simba mattress, a Fitbit Versa, and £600, which is about $783 U.S. dollars. It's so easy to apply for this unbelievable opportunity, too. Steve Reid, Co-Founder and CEO of Simba, shared the job on Airtasker, and the listing calls for three individuals who will make up a "dream team" to partake in a Simba sleep study. To be one of the chosen ones, you need to "make an offer" on the Simba Airtasker post.
Don't worry about studying up on REM sleep to qualify, because all you need to do is demonstrate why you'd be a great fit when you detail your most "inspiring, memorable, funny, or downright outrageous sleep tales," per the website. So, share your laugh-out-loud anecdote that involves an untimely snooze session by the deadline of Thursday, Aug. 9 for a chance to win your spot on the "dream team."
Stating your case as to why you're qualified for the "sleepsperience" will likely be the hardest part of the job. Even so, you'll want to know what can you expect if you're chosen for the study that is scheduled to take place in August, shortly after the application deadline.
In an effort to "redefine the way the world sleeps," U.K.-based Simba wants to give the chosen candidates its hybrid memory foam and pocket spring mattress to sleep on for four weeks. To gather data, Simba will use the information from a complimentary Fitbit Versa to track their sleep activity. Furthermore, Simba will help the dream team employ various sleep routines — like deep breathing — to see if they improve the quality of sleep, according to a Simba YouTube video about the job.
Then, when the participants awake, Simba will use Fitbit Versa data to decipher how different sleep routines affect the waking hours of their day. I don't know about you, but I am all for getting paid to sleep in order to discover how get a better night's rest.
While it's a good idea to practice different sleep routines in order to have a restful night of sleep, you'll likely enjoy the benefits of the hybrid Simba mattress, too. According to the Simba website, the Simba Hybrid Mattress features a combination of "pocket springs and responsive memory foam." Plus, the website says that the mattress is made for "front, back, and side sleepers," so you're set no matter how you snooze. It retails on the website for £379, which is about $442 U.S. dollars, and you'll get a Simba mattress for free as a member of the "dream team."
Now that you know what's in store if you win this summer position of your dreams, you can start brainstorming your best sleep tales to get the gig. Good luck!